QLD Schoolies flirting with health hazards offshore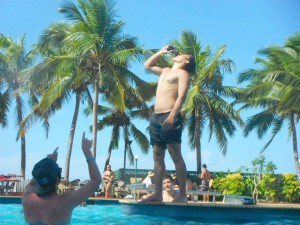 Queensland school-leavers heading offshore to the exotic hotspots of Bali, Thailand, Cambodia, Fiji and Vanuatu to celebrate 'Schoolies' this weekend may be unwittingly exposing themselves to potentially fatal infectious diseases, including rabies, hepatitis A, meningococcal disease, measles, gastrointestinal infections, malaria and dengue.
Today, leading travel health pioneer, Dr Deb Mills, will be urging scores of Queensland Schoolies to 'travel and party safely' overseas by following three simple steps:
 Have your shots;
 Pack a medical kit; and
 Learn about the local hazards and how to avoid them, to have a good time.
"Many school-leavers mistakenly think because they have completed their routine childhood vaccines they are protected against various vaccine-preventable diseases. Unfortunately, routine vaccines do not provide sufficient protection for overseas travel," said Dr Deb.
The Queensland Studies Authority (QSA) estimates 48,500 students will graduate from Queensland high schools this year, many of whom will be oblivious to the potentially fatal health hazards common to their party destinations.
For more information please download the Media release  – Media release – QLD Schoolies flirting with health hazards offshore & to download Media case profiles see below;
Download video news release (overlay only) from https://vimeo.com/79078164 using the password 'schoolies'.
To arrange an interview with Dr Deb or for more information, please contact
Joni   Thomes, Kirsten Bruce, or Danielle Cesta  from VIVA! Communications on
0430 149 642 / 0401 717 566/ 0439 083 869