Navigating the issues-rich COVID-19 communications environment
Now, more than ever, individuals and businesses alike are facing unchartered territory, thanks to the COVID-19 pandemic. While the more agile may thrive in connecting and communicating with their respective stakeholders during this disruptive period, others may struggle.
In response to this environment, and to give back to the broader Australian health + wellness community, we've assembled a 'COVID Comms Cast' comprising our most senior, health-literate communicators well-versed in navigating issues and crisis-rich environments.
Our COVID Comms Cast is ready to support you, your organisation and/or stakeholders with identifying opportunities and crafting effective, authentic and accurate health-oriented messages, communication campaigns and collateral throughout the COVID-19 pandemic.
To mark the launch of the COVID Comms Cast, we published an exclusive e-bulletin for six weeks which:
housed tips on how to effectively communication during the pandemic;
featured stories, insights, opinions and perspectives from leading international and local clinicians and health experts, including our very own GLOBALHealthPR partners; and
a weekly COVID news wrap.
Should you have any burning questions or topics you'd like us to canvas, or wish to tee-up an informal chat with our dedicated COVID Comms Cast, please reach out at info@vivacommunications.com.au.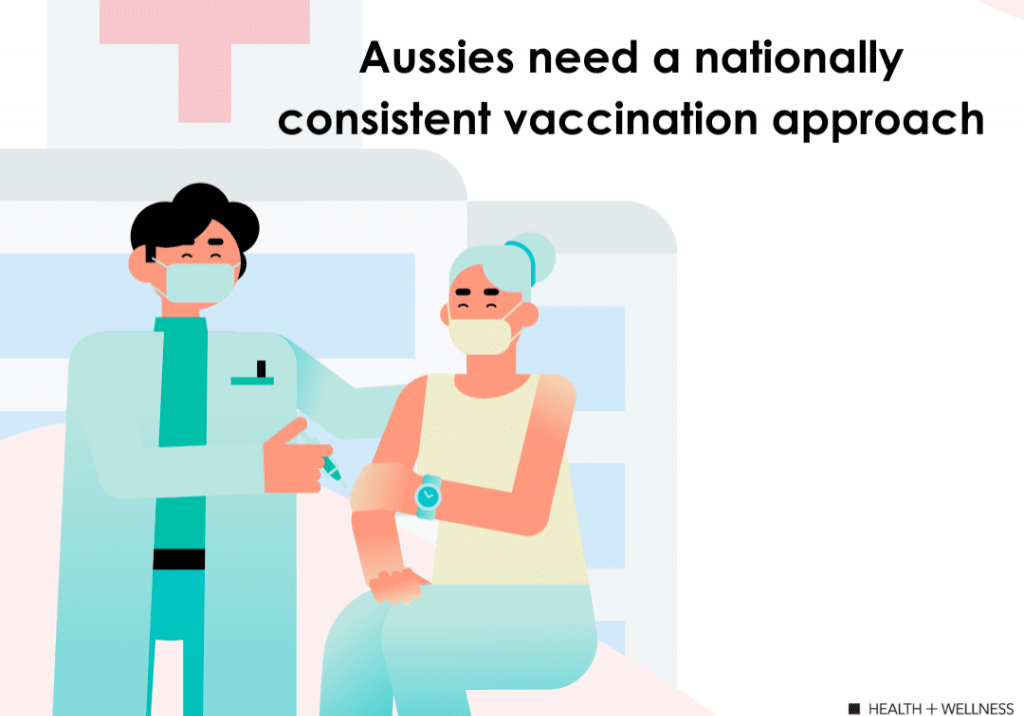 Aussies need a nationally consistent vaccination approach
COVID Comms Cast Top Tips
Working remotely can be isolating, and in the current situation, is a first for many. Encouraging non-work-related conversation, regular video conferencing, and remote-friendly team activities, such as trivia, can help to ensure your team maintains a good work-life balance in this challenging environment.
While the global pandemic understandably remains front of mind for all, millions of Australians living with non-COVID-19-related health issues continue to require ongoing medical support and care. Companies must therefore, remain vigilant in their efforts to maintain communication with these individuals, to listen to their concerns, reassure them that they have not been forgotten, and importantly, encourage them to continue to seek timely healthcare professional advice.
With publishers continuing to slash, suspend or end publication of their print editions, this will most certainly affect organisations and individuals wishing to secure earned media (editorial) opportunities moving forward. For insights on how to best pivot your communications strategy and tailor your messages to the ever-shrinking Australian medical and consumer media, be sure to seek professional communications counsel.
Given the constantly evolving landscape, companies need to ensure their messaging is adaptable and consistent with the latest COVID-related government updates and policies.
As restrictions ease and more Australians begin to return to the office, working from home has undeniably changed business models across the healthcare industry. The question is, how do companies and their staff navigate their way through this new normal? By implementing the positive elements of WFH, such as increased virtual communication over face-to-face meetings, reduced travel and greater flexibility, and being cognisant of the potential downfalls such as the impact on mental health, the importance of maintaining staff morale and disadvantages of a siloed team, those in the industry can come through COVID-19 stronger than ever.
From a communications perspective, the COVID-19 pandemic has taught us the importance of being able to act swiftly, be nimble, and to pivot on demand. Leaders at all levels were required to quickly step up, to help quell consumer panic associated with the virus. They were tasked with the unenviable role of finding a delicate balance between the delivery of too much, and too little communication. Those who over-communicated, ran the risk of inundating and overwhelming their target audience, while those who under-communicated, fuelled unease and uncertainty. Harnessing these key learnings from the pandemic will help you to communicate with balance, moving forward.