Clinching the Nowra title
With the launch of the "I Support Women in Sport" campaign, we thought it would be fitting to promote VIVA!'s very own woman in sport, Tara Prowse, and her latest win on the Triathlon NSW Pro Tour circuit.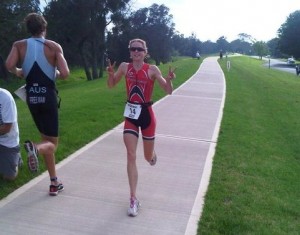 Tara amazes us every day with her dedication to Triathlons, getting up before the sun to either swim, ride or run, then racing off from work to do more training. It's exhausting just thinking about it!
Tara chalked up a win at the latest NSW Triathlon Series Pro Tour race in Nowra on Sunday, January 16 under perfect conditions.
She finished well clear of the field in the draft legal sprint race stopping the clock at 1:05:33. In clinching the title, she also posted the fast bike and run splits of the day.
Team VIVA! take their hats off to Tara and congratulate her on a magnificent win. We're sure there will be many more to follow.