VIVA!'s brush with Olympic flame – July 27, 2012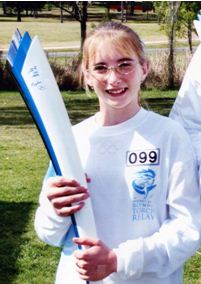 With the kick-off of the London Olympics today, we've been reminiscing about the Sydney 2000 Olympics when our country basked in Olympic glory.
To our surprise, we discovered that one our VIVA! team members was a torchbearer at the Sydney Olympics!
VIVA! Senior Account Executive, Kristine Snell, set off on August 29, 2000 as the 99th bearer of the Olympic flame for the day, carrying the torch 500 metres along Macquarie Street in Morisset, on the Central Coast of New South Wales.
"I remember being handed a torchbearer application by my local concert band, taking it home and not thinking anymore of it.
"Several months later, I was shocked to discover my mum had sent it away and I had been selected," said Kristine.
"On August 29, we met the Olympic torch organisers at a local park where we were given our uniforms, running order and our torch.
"I was so nervous and worried about not absorbing enough information about how to correctly pass-on the flame," Kristine said.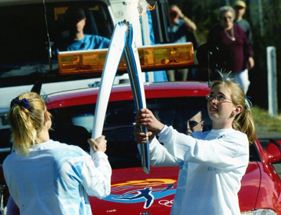 The Sydney Olympics torch relay passed within an hour's drive of 85 per cent of the Australian population; travelled more than 27,000 kilometres and was carried by 11,000 torchbearers in the longest torch relay in Olympic history.
The design of the torch was inspired by the Sydney Opera House and the curves of a boomerang, with the three layers of the torch representing earth, water and fire. At the bottom of the torch, there was a switch which activated the enclosed gas cylinder, allowing the flame to be transferred.
"After the briefing, we [the runners] were piled into a bus. One-by-one, we were dropped-off at our destination, to await our turn in carrying the torch.
"As the runner before me came closer and closer, butterflies sprang to life in my belly. But after a few tense moments and several attempts, my torch was lit, and I was off and away," Kristine said.
"I remember my mum saying 'don't run too fast, savour every second', but I was so excited, that I sprinted the whole distance, with my friends struggling to keep-up roadside.
"I reached the next runner and passed on the flame, and my 15 minutes of Olympic glory as over," said Kristine.
"It was one of the most incredible days of my life. It's not often a road is closed for you to run along, while being escorted by policemen on huge Harley Davidson motorbikes!"