VIVA! Communications gets into #DigiSights 2016 in Mumbai – February 18, 2016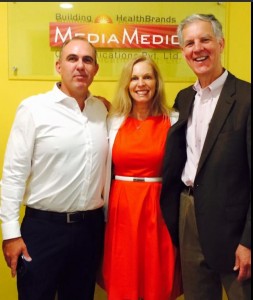 With a buzz surrounding the start of DigiSights 2016 – Digital Marketing Conference for Pharma & Healthcare, host Dinesh Chandakar, Managing Director of Global Health PR India partner, MediaMedic Communications, the proud digital agency hosting the event in Mumbai, welcomed all Global Health PR partners to the conference.
Upon welcoming the attendees, Dinesh invited the audience to "question, challenge and understand the innovations around digital marketing".
The newest additions to the Global Health PR network, representatives from energiPR, Canada and Effector AB, Denmark were welcomed to their inaugural conference event.
The first conference presenter was Managing Director for Janssen, India, Sanjiv Navangul who shared an outlook on Healthcare Technology and Emerging Medias.
A panel discussion followed, led by Dean of IES Management College and Research Centre, Parag Mahulikar about how Pharma should achieve using digital and featured a host of panellists.
After a short break, Eugenia De La Fuente, Director, Paradigma Pel Communicacion, Argentina presented on "Understanding Barriers in access to Medication". Thereafter, Tim Goddard, Senior Vice President, GlobalHealth PR USA shared about how social media is impacting decision making across health awareness to treatment.
Leading the discussion within social media marketing and Pharma, VIVA! Communications Principal, Kirsten Bruce, showcased the #saveaHUSlives campaign that saw the aHUS patient support group secure Government funding for Soliris (eculizumab), the only life-saving treatment clinically proven to treat the ultra-rare blood disease, aHUS.
The campaign, which featured a digital and social media arm, combined with a traditional PR campaign led to the December 1, 2014 PBS listing of Soliris (eculizumab) for aHUS, and $63 million Federal allocation over the ensuing four years.
Following on from Ms Bruce, Rahul Avasthy, Lead of Digital Marketing at Abbott, India, began discussing his thoughts on "Social Media and Digital Innovations in Pharma".
All the way from Brazil, Adriana Solinas, Tino Communicacio shared her insights on the campaign "Raising Awareness and Reaching HCPs for Retinal Disease."
As the day progressed, the topic of discussion shifted focus to Multichannel Marketing.
Leading this discussion, General Manager of Marketing for Janssen, India, Sheweta Rai spoke about building a community, creating awareness and creating a presence for Janssen in tackling the fact approximately 80 per cent of women have migraine problems.
With a quick afternoon refresher, Aurora UK, Account Manager, Sharon Koo, began talking on "Building Patient-centricity in MS" followed by energiPR, General Manager, Marlo Taylor who talked about "Creating Awareness in Overactive Bladder," and was supplemented by MD and owner, Aurora UK, Neil Crump, who shared his insights into "Measuring Campaign Effectiveness in MCM."
As the end of the day approached, eDetailing and technology became the final topic of discussion. Led by Wockhardt Ltd, AGM for Digital Marketing & eLearning, Gurpinder Singh, who discussed how mobile learning was enabled for the millennial generation.
The final presentation of the day was delivered by Gauri Chowdhary of XX, showcasing the functions of an app made specifically for dermatologists
To bring the event to a close, GSK India, Digital Marketing guru Rinkesh Shah shared a case study on a client for Mother Horlicks.
VIVA! Communications would like to thank the team at MediaMedic for hosting a wonderful conference and look forward to next year.