Unmasking epilepsy stigma – a patient and carer perspective
This Epilepsy Awareness Month (March), Team VIVA! has been busy working with patient support associations nation-wide to help unmask the stigma and discrimination associated with the country's most common, chronic brain disorder, affecting more than 220,000 Aussies.  
Earlier today,  we released new research revealing almost 1-in-2 Aussies living with the condition experience some form of unfair treatment or discrimination in their workplace.
Read more about the epilepsy research in The Australian
So, we sat down with some of the Aussies living with epilepsy, and their families and carers, to find out more about the condition and how it affects them.
From Sydney-based young mother of two, Rachel, who experienced her first seizure while giving birth, to musical family-of-four from Canberra raising awareness by writing and recording epilepsy support songs, each story provides some insight to life with epilepsy.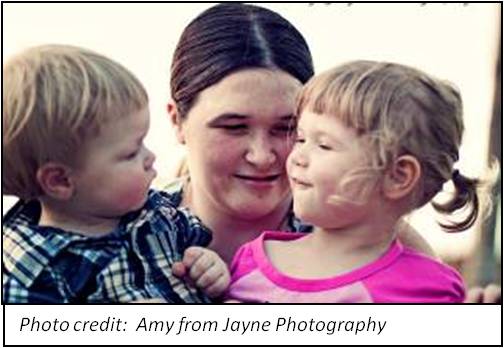 Rachel 22, from Liverpool, Sydney, was giving birth to her first child when her heart rate suddenly plunged and she began experiencing seizures. Rachel later discovered that her seizures were caused by epilepsy, the nation's most common, chronic brain disorder.
"I knew something was wrong when my heart rate dropped dramatically during labour," said Rachel.
"I didn't know at the time, but later learned that I was having several seizures while giving birth and was close to losing my baby."
According to Rachel, her epileptic seizures – known as tonic clonic seizures – are triggered by pain, which explains why she experienced her first seizure during childbirth.
An EEG scan showed Rachel had abnormal brain activity in the front temporal lobes, an area associated with processing sensory input.
"When diagnosed with epilepsy, I knew my life would never be the same. But I'm confident I can still lead a happy life, watching my kids grow up and fullfill their dreams," said Rachel.
"I try to stay positive about the future in hope of a cure for my disease."
Rachel would like to start working soon, perhaps in a retail or office environment, but fears she may be rejected by potential employers due to her epilepsy.
"My biggest concern is being discriminated against and someone frowning upon me due to my epilepsy," said Rachel.
This Purple Day (March 26), Rachel and her family will be staging a fundrasing event at their Liverpool home.
"We plan to sell merchandise to support Epilepsy Australia along with afternoon tea and special cupcakes decorated with a purple ribbon and the word 'hope' written on them," Rachel said.         
Marcel, 40, with his wife who is living with, and managing epilepsy, Nicki, 38, and their daughters, Alexia, 6, and Mikaylah, 11.
For over a decade, Marcel, 40, a project manager and musician from Canberra, has witnessed his wife, Nicki, 38, endure several intense seizures due to her epilepsy.  The seizures resulted in frequent injuries such as severe bruises, severely bitten tongue and on one confronting occasion a broken nose.
Turning misfortune into music, Marcel is teaming with his 11-year old daughter, Mikaylah and Epilepsy Australia ACT in the lead up to this year's Purple Day on Tuesday, March 26 to compose and record epilepsy support songs in a bid to inspire and assist Canberrans and their families living with this common, chronic brain disorder.
"In 1999, four years in to our marriage, Nicki suddenly experienced a severe seizure, known as a grand mal seizure which lasted for at least 10 minutes," said Marcel.
"This is a very dangerous and life threatening length of time. I honestly thought she was going to die, holding her in my arms in preparation to commence resuscitation.
"Often epileptic patients will experience a feeling known as an 'aura' as a sign or indication that they are about to have a seizure. But Nicki is in a special uncommon category, whereby her seizures would occur with absolutely no warning and even sometimes whilst she is in the midst of conversation."
Since her diagnosis in 1999, Nicki has experienced approximately 22 Grand Mal seizures, with Marcel being a witness to all, with the exception of two.
"The seizures initially start with Nicki's whole body becoming instantly stiff and arching back. There is an instant loss of consciousness in conjunction with violent muscle contractions and loud unusual vocal moaning sounds," Marcel said.
"As a family, we've tried to cope with the daily fear and lack of control over Nicki experiencing another seizure."
Marcel says his is now determined to help the community understand the impact of seizures and epilepsy on everyday life, and to reinvest some of the kindness and understanding they have been met with along the way.
"Our family loves to celebrate music in all forms in the home environment. I usually play the guitar and other instruments and our girls love to sing along," Marcel said.
"Mikaylah and I are producing songs that complement the wonderful story books written by Epilepsy Australia ACT. We hope that our music will resonate with children and their families who can sing-along to tunes about living with epilepsy."
The children's book, including the music CD, can be purchased from Epilepsy Australia ACT by visiting www.epilepsyact.org.au or calling (02) 6287 4555. The book retails for $7 including postage and handling, with all proceeds from the book and CD sales going to Epilepsy Australia ACT.
Perth beautician, Rebecca, 31, works from her Myaree home while raising two beautiful daughters with her husband, the youngest of whom is living with epilepsy.
This Purple Day (March 26), Rebecca will be celebrating the first birthday of her treasured daughter, Lila, who was diagnosed with epilepsy at nine months of age.
 "I want Lila to enjoy her childhood, and to experience the same independence as my eldest daughter, Maya will come to experience," said Rebecca.
At only 11 weeks of age, Lila started having prolonged tonic clonic seizures that would last anywhere between 30-to-90 minutes. Following many rigorous tests over the course of six months, Lila was diagnosed with epilepsy.
"My entire life now focuses on meeting Lila's special needs which has collectively made our family more house-bound.
"For most of last summer, we had to stay inside, as both heat and exhaustion are major triggers of a seizure," Rebecca said.
"But now that Lila's condition is being effectively managed with medication, I'm confident she will get to live a full life."
While the family has been met with overwhelming support from family and friends, Rebecca doubts that most people understand the severity of living with epilepsy.
"I think most people are unaware when it comes to understanding the severity of epilepsy.                                                                                                                                                                                                                                                                                                                                                                                                                                                           
"The condition certainly places ongoing pressure on us as a family, to the extent that we are always preparing for the worst-case scenario," Rebecca said.
In the lead up to this year's Purple Day, Rebecca plans to host a fundraising Tupperware party for the Epilepsy Association of WA, at her Myaree home on March 23, for her family, friends and neighbours.