Sad news of the passing of a giant of the Australian communications industry – Rest in Peace Peter Lazar AM LFPRIA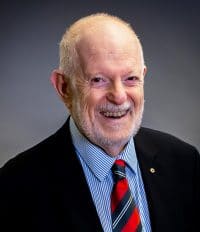 VIVA! Communications was saddened today to learn of the passing of Aussie PR veteran, Peter Lazar AM LFPRIA.
The Life Fellow and Past President of the PR Institute, creator of the PRIA Golden Target Awards and Registered Consultancy Group PRIA, and co-author of the 'Australian and New Zealand Public Relations Manual' had an extraordinary professional career spanning countless decades. The Founder and Chairman of Professional Public Relations (PPR) Australia – a role that he held for more than 52 years – was a fabulous communicator who was instrumental in driving positive change across business, the communications and PR sectors, dental health education and the community at large, through his involvement with healthcare, aged care, social welfare and cultural organisations.
"I have wonderful memories of Peter fleetingly gracing the corridors of PPR, where I began my health + wellness communications career. He had an extraordinary presence, an exceptionally brilliant and creative mind, and served as an inspiration for me to open my own, independent health communications agency," said VIVA! Communications Founder and Principal, Kirsten Bruce, Sydney.
"He was a giant of the industry who will be very much missed.
"Rest in peace Peter, and thank you for laying the foundations for what has become a truly vibrant, dynamic and diverse communications industry in Australia," Kirsten said.
Peter's funeral is being held on Tuesday, February 1, 2021 at Laurelbank, 85 Penshurst Street, Willoughby at 11.00am, followed by a celebration of his life in the grounds. Should you wish to attend, please email diana@opfconsulting.com.au
Alternatively, should you wish to attend virtually, the Service will be livestreamd from 10:50am via https://www.FuneralVideo.com.au/PeterLazar