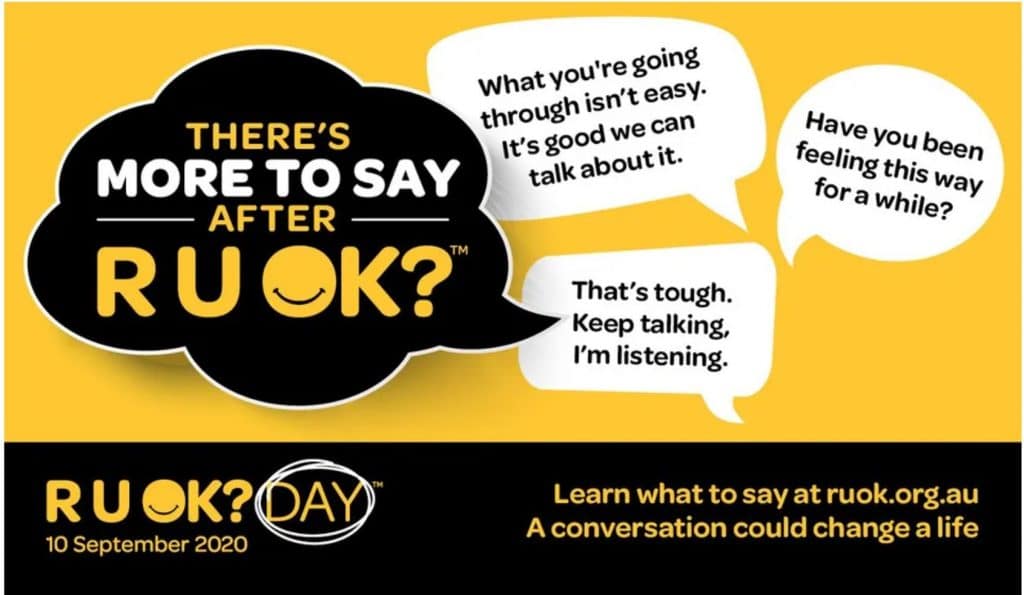 Today (Thursday, September 10) marks the annual nationwide R U OK? Day and raising awareness of the importance of mental health is something very close to our hearts here at VIVA!.
As well as working with countless clients in this space over the years, recently we made sure we were one of the first signatories of the Mentally Healthy Minimum Standards. The Standards recognise the demanding and highly stressful nature of our industry, and the importance of maintaining mentally healthy cultures and businesses.
R U OK? Day calls on all Australians to stay connected with the people around them and start a conversation with those who may be struggling as they deal with the lasting impact of COVID-19.
To help with this, there are some simple steps you can start with:
1. Start a conversation with your friends and family
2. Ask R U OK?
3. Listen
4. Encourage action if required
5. Check in on a regular basis
As Australians, we are all in this together, and one single conversation can be lifesaving.
By living with the constant uncertainty of how the virus might impact our lives over the coming weeks and months, the perfect conditions for mental health disorders to flourish have been created.
At VIVA! we prioritise the mental health and wellness of all our employees, maintaining frequent check-ins, promoting flexible working schedules, and ensuring we fit in time for weekly yoga sessions.
The importance of shining a light on mental health was reflected in a recent post we shared which discussed the mental health implications of COVID-19 on people with eating disorders.
People living with eating disorders can have a complex relationship with food, exercise and social relationships. This complex relationship combined with social isolation, increased hygiene measures, closure of health and fitness centres, and an increased sense of uncertainty might even have triggered eating disorder symptoms in some individuals.
VIVA! is therefore proud of our longstanding involvement with several international genetics studies into eating disorders including the Anorexia Nervosa Genetics Investigation (ANGI) and more recently the Eating Disorder Genetics Initiative (EDGI).
There is still a misconception that people's struggles will be visible, when the reality is that even the people you expect the least can be struggling with something on the inside. So, stay connected to people around you and ask them R U OK on a regular basis?