Australians awash with compassion for flood victims
By Kirsten Bruce, Principal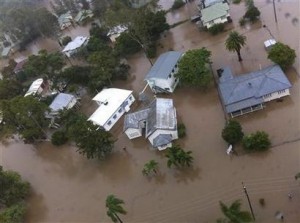 Yesterday, three quarters of the state of Queensland was declared a natural disaster zone. The response by the Australian public has been awe-inspiring, with more than $45 million donated to the relief to date. 
The media is currently flooded with stories of our Queensland "Aussie battlers", showcasing a whole spectrum of reactions – from loss through to bravery, survival, and compassion – characteristics all reflective of our local and compassionate nature. 
My family are all based in Brisbane and on the Sunshine Coast. My sister owns a day spa/beauty salon in Bardon, Brisbane and has had two rooms of her spa destroyed by the rain. Fortunately, her home, and my mother's and brother's homes in Brisbane, have all dodged the wrath of the floods to date. Unfortunately, my disabled mother-in-law, who is based in the Hinterland near Noosa, has been cut off from supplies. She was hospitalised over Christmas with septicaemia of her leg and the Blue Nurse has been unable to reach her recently. She has been unable to leave her home to reach the nearest township for quite a few days now. 
Of course, this is just one out of many stories illustrating the devastation and loss by our northern neighbours. The water seems to be letting up a little in the past day which is good news. We have made a donation today in support. I hope you all dig deep too. Let's hope things improve soon for our northern neighbours. 
To make a donation head to www.qld.gov.au/floods/donate.html
EDIT: I've just received a number of photos from my mum of the flood recovery effort in Brisbane that I wanted to share with you. Team VIVA! would like to thank all volunteers who are continuing to make a difference to many people's lives.