World Immunisation Week 2021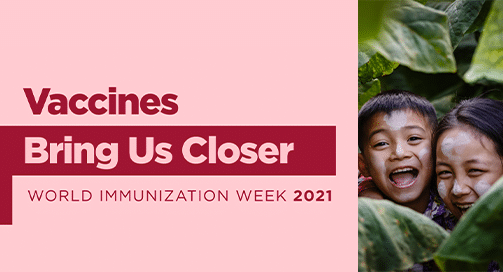 As millions of people around the world eagerly await their COVID-19 vaccinations, this year's World Immunisation Week (WIW), which falls in the last week of April, has come at a fitting time. Organised by the World Health Organization (WHO), this year's theme is 'vaccines bring us closer', aiming to increase global engagement around immunisation, and to promote the importance of vaccinations in improving collective health and wellbeing.
More than a year since the onset of the coronavirus pandemic, vaccines now offer us a glimpse of light at the end of the tunnel. For many who have been isolated, both due to social distancing regulations and travel restrictions, this signifies the beginning of a long-awaited opportunity to be near their loved ones and the potential of a gradual return to normality.
Yet, this can only become reality if enough people opt to receive a COVID-19 vaccination, of which there are currently two approved in Australia.
At present, Australia is lagging in our vaccination campaign, with just over 1.9 million doses administered, compared to 226 million doses in the USA and 45.6 million in the UK, accounting for 28.4 and 18.1 per cent of their populations, respectively. With recent changes to the national vaccination schedule following safety concerns regarding AstraZeneca's shot, increasing vaccine awareness and engagement is more important than ever.
Although it may seem all-consuming at times, an all-in effort to bring an end to COVID-19 is just one of the ways vaccines can bring us together.
Immunisation is arguably one of the most important public health measures of the past 200 years. From our first vaccinations at birth, right through to the commencement of annual flu vaccinations as a teenager, vaccines keep us protected throughout childhood for the healthiest start to life. They've helped the international community eradicate such diseases as smallpox, and have reduced the global number of child deaths in the past 30 years by over 50 per cent, largely thanks to vaccination programmes.
Australia is fortunate to boast one of the strongest National Immunisation Programmes in the world. Routine immunisation of infants first began in the 1950s and today, the programme achieves 95 per cent coverage of children aged five years and over, and 90 per cent coverage in those aged one to two years. Consequently, we enjoy extremely low rates of diseases such as rubella, tetanus and measles.
Unfortunately, as many as 20 million people worldwide today still miss out on vital vaccinations, from childhood and into old age. This number is expected to have risen during the global pandemic, and amid present fears of vaccine safety and rapidly circulating misinformation around the topic of vaccination, vaccine hesitation now stands as a significant threat to global health.
Part of WIW's goal in 2021 is to ensure routine immunisations are not missed and that any barriers to entry are eliminated as much as possible. Achieving this will require transparent and clear communication between relevant healthcare authorities, pharmaceutical companies, and the public, to ensure people feel comfortable with immunisation and are aware of the risks to themselves and others of missing their vaccinations.
Here at VIVA! Communications, we are proud to have been part of vital vaccination awareness campaigns, including Lung Foundation Australia's drive for pneumococcal pneumonia vaccination and the Pharmacy Guild of Australia's public health notice for Australians to receive their annual flu shot. We are pleased to endorse this year's WIW as part of our work in healthcare PR and look forward to continuing to facilitate communication around the vaccination movement.
To learn more about vaccines and how they work, check out VIVA!'s post Vaccines: how they work in protecting us.
To find out more about global efforts to raise childhood immunisation rates and keep communities safe, check out WHO and unicef.org.