VIVA! clinches two Highly Commended gongs at PRIA National Golden Target Awards
VIVA! Communications clinched two Highly Commended gongs at the 42nd annual Public Relations Institute of Australia's (PRIA) National Golden Target Awards (GTAs) in Sydney last night (October 30, 2018).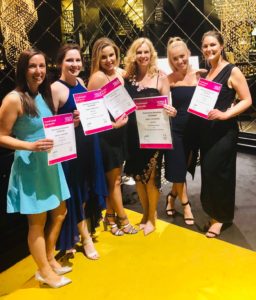 Gathering at the elegant Hyde Park Doltone House, Team VIVA! joined Australia's leading PR practitioners to hear the much-anticipated results of the 20+ PR categories representing industry excellence.
VIVA! was proud to take home two Highly Commended awards in the Community Relations and Health Campaign categories.
VIVA!s Principal and owner, Kirsten Bruce was grateful for the recognition of her agency's hard work over the past year.
"This achievement represents the culmination of hard work invested by all members of Team VIVA!.
"My sincere thanks to the PRIA judges for recognising VIVA!s significant contribution to the Australian communications industry," Kirsten said.
According to VIVA!s Managing Director, Paul Jans, the agency faced some fantastic, diverse and equally deserving competitors in the Community Relations and Health categories.
"We're delighted to be recognised this evening with two significant National PRIA GTA awards.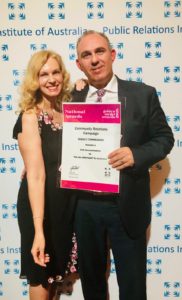 "I genuinely believe our independence, specialisation in health + wellness, unrivalled passion and dogged determination to make a tangible difference to the lives of Australians, is what sets us apart from our competition," said Paul.
"We look forward to continuing to deliver best practice work for our clients for years to come."
Kirsten further extended her sincere congratulations to all National GTA 2018 finalists.
"We are extremely privileged to be positioned among the nation's most credentialed PR agencies and grateful to those who continue to inspire us to reach new heights, each and every day.
"Thank you to the many PRIA judges who worked hard behind the scenes this year to assess, recognise and award the nation's best-in-class communication campaigns and agencies," Kirsten said.