VIVA! clinches Highly Commended in Health Organisations category at QLD PRIA Golden Target Awards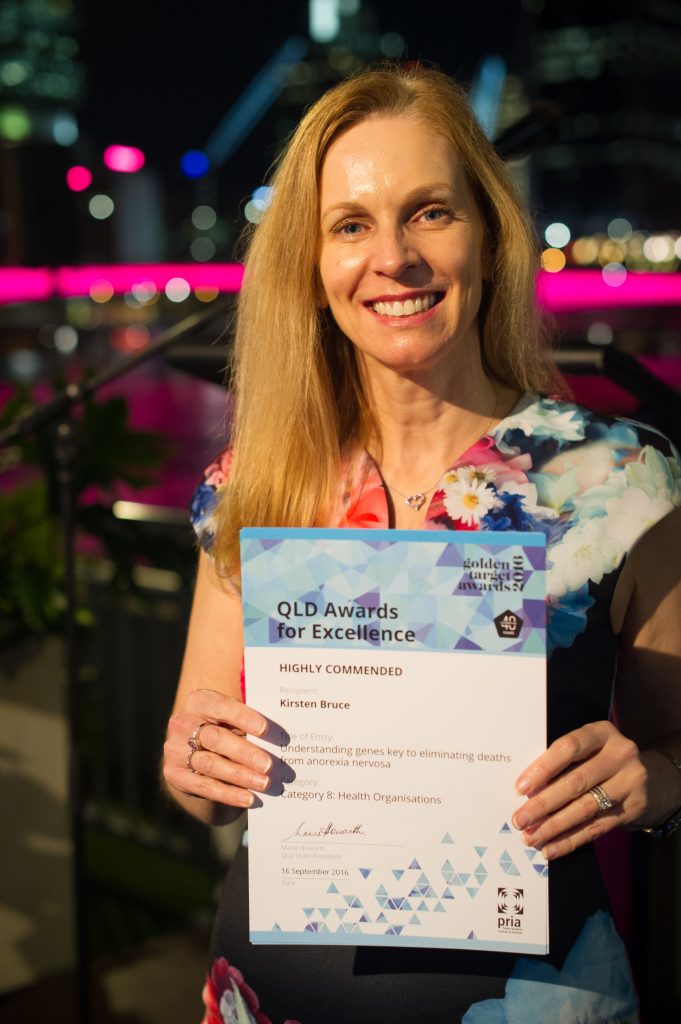 If you've ever submitted a state-of-the-art PR campaign into an industry competition, you would fully comprehend the process involved. But the effort can certainly pay off.
The 2016 PR industry awards season kicked-off last Friday, September 16 in Brisbane with the Public Relations Institute of Australia's (PRIA) 40th Golden Target Awards (GTAs).
PRIA's Queensland State Awards for Excellence attracted a total of 27 entries, 17 of which were presented at the Brisbane event, including six Winners, seven Highly Commended and four Commended campaigns.
For the first time in our 14 year-long history, VIVA! Communications broke new ground, entering our QIMR Berghofer Medical Research Institute Anorexia Nervosa Genetics Initiative (ANGI) PR campaigninto the 'Health Organisations' category of the 2016 Queensland State Awards for Excellence.We were delighted to clinch Highly Commended in PRIA's Queensland State Awards for Excellence.
During our 21 month-long tenure in Brisbane [our VIVA! Brisbane branch], we have teamed with this formidable Medical Research Institute to help researchers recruit Aussies and Kiwis into ANGI – the world's largest and most rigorous genetic investigation into anorexia nervosa – in order to pinpoint the genes that cause anorexia nervosa, and ultimately help accelerate and improve treatment outcomes.
Anorexia nervosa has the highest death rate of any psychiatric disorder, afflicting 53,000 Australians and 21,000 Kiwis respectively. Yet little is known about the genes that predispose individuals to the illness.
Having met and surpassed (with our PR assistance) their initial, regional blood donor recruitment target of 2,200 by July, 2015, QIMR Berghofer Medical Research Institute ambitiously expanded their ANZ target to 3,000 donors by July 31, 2016.
VIVA! Communications was subsequently re-engaged to rigorously and cost-effectively drive ANGI recruitment, locally and across the Tasman, between March 1 – July 31, 2016.
By harnessing the ANGI global Investigator's new suicide research, and interim Australian ANGI data – revealing less than a third of Australian participants were under medical care – we successfully drove ANZ patient recruitment into the study.
Our strategic three-phased, two-country, integrated campaign, met and significantly surpassed key objectives.             By maximising target audience awareness of anorexia nervosa and the critical role played by genes, we helped to successfully enrol more than 3,000 people into the ANGI ANZ arm by July 31, 2016. More significantly however, we helped to curb further deaths from this devastating psychiatric disorder.
VIVA! Principal, Kirsten Bruce, who attended the event, accepted the award on behalf of her team and clients at the QIMR Berghofer Medical Research Institute – ANGI Australia Lead Investigator, Professor Nick Martin, and his colleague, ANGI Project Coordinator, Richard Parker.
PRIA Queensland President, Marie Howarth, congratulated all GTA entrants, citing the GTA's represent the premier PR and communication industry awards in Australia and that this year was tough competition.
"Congratulations to all of the entrants for the high quality of work they have delivered. This tops off a fantastic year for the PRIA in Queensland, with great campaigns, excellent events and a growing membership."
VIVA! Principal, Kirsten Bruce said she was delighted to have teamed with such a prestigious medical research institute and its personnel, to work on such a worthy genetics study patient recruitment campaign.
"We are truly thankful to QIMR Berghofer Medical Research Institute personnel for engaging us to work on, and make a small, but valuable contribution to, this groundbreaking genetics research study.
"We look forward to partnering with this dynamic, not-for-profit organisation on other clinical trial recruitment studies in different therapeutic areas," said Ms Bruce.
Watch this space for how VIVA! Communications fares at the upcoming PRIA NSW State Awards for Excellence in Sydney on October 5, 2016.