Twittersphere embraces 2012 Digital Pharma Seminar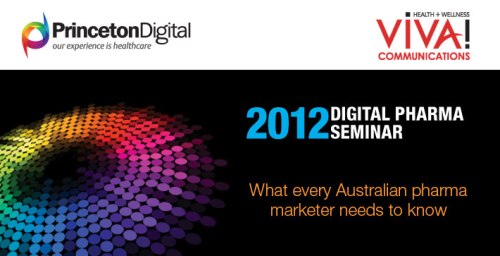 Thank you to everyone who supported the 2012 Digital Pharma Seminar, hosted by Princeton Digital and VIVA! Communications, held in Sydney yesterday.
VIVA! coordinated the social media activities in the lead up to, and during the Seminar in Sydney, including producing real-time online updates and posting our exclusive speaker interviews.
Delegates from diverse backgrounds in health and pharmaceuticals heard from local and industry leaders, who shared their knowledge and relevant case studies in digital marketing.
If you missed it, here are some of the twitter highlights from the day. A special thanks to our GLOBALHealthPR partners who joined the conversation and shared #digipharma messages world-wide.
Don't forget, there's still time to register for the 2012 Digital Pharma Seminar in Melbourne next week, on Thursday, August 16.

More in this 2012 Digital Pharma Seminar series:
How pharma can leverage digital
Digital in the wild: a GP's perspective on digital technology
Using digital technology in sales detailing
It's about fishing where the fish are: what pharma should be doing with social media