The hair-raising initiative addressing Australia's second deadliest cancer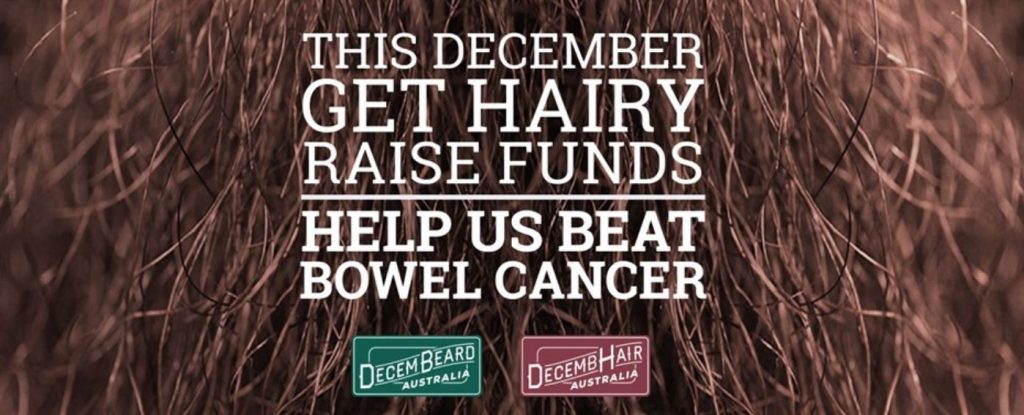 Bowel cancer is Australia's second deadliest cancer, claiming 5,255 lives each year. Devastatingly, almost 300 of those people are under the age of 50[1].
Bowel cancer can be found in any part of the rectum or colon. Depending on where the cancer is, it may also be referred to as colorectal/colon or rectal cancer[2].
This month is Decembeard, and Bowel Cancer Australia are calling on all Australians to help raise much needed funds and awareness to help prevent, and hopefully find a cure, for bowel cancer.
Concerningly, Bowel Cancer Australia revealed there has been a steady increase in bowel cancer diagnoses in those aged under 50, with 30 new young-onset bowel cancer cases being diagnosed each week.
Research indicates that 34% of bowel cancer cases may be prevented by maintaining a healthy lifestyle[3]. Avoiding excessive alcohol intake and smoking, keeping a healthy diet and doing regular exercise can help reduce your risk factor of developing the disease.
Like many diseases, an individual's risk of developing bowel cancer increases as they age, with those aged 50 and over being at greater risk.
Screening for bowel cancer is critical, as 99% of bowel cancer cases can be successfully treated when detected early.
However, symptoms can often be subtle or easily overlooked. They may include a persistent change in bowel habits, blood in your poo, frequent gas pain, abdominal pain or swelling, as well as unexplained anaemia.
The Australian Government introduced the National Bowel Cancer Screening Program (NBCSP) in 2006 with the aim to reduce the number of bowel cancer deaths and increase the number of people screening for bowel cancer.
The NBCSP sends a Faecal Immunochemical Test (FIT) in the mail to Australians once they turn 50.
Other screening methods might include a physical examination, colonoscopy, Faecal occult blood test (FOBT) or a digital rectal examination[4].
Despite the numerous screening options available, Australia continues to have one of the highest rates of bowel cancer in the world, with an estimated 1 in 13 Aussies developing the disease in their lifetime.
Decembeard was created as a fun and interesting way to raise awareness for bowel cancer, and everyone is encouraged to get involved by:
Growing a beard or some form of facial hair;
Dye, shave or trim your hair to create an amazing look; or
Donate the amount you spend on shaving/grooming, or skipping your next waxing appointment.
Workplaces and community groups are also being encouraged to include a Decembeard and Decembhair theme as part of this year's end-of-year celebration by growing beards or dressing up with wigs.
To learn more about bowel cancer and to find out how to get involved in Decembeard and Decembhair, visit https://decembhair2021.gofundraise.com.au/ .
---
[1] https://www.bowelcanceraustralia.org/facts
[2] https://www.bowelcanceraustralia.org/what-is-bowel-cancer?gclid=Cj0KCQiAkZKNBhDiARIsAPsk0WjYh3M_WmwHyi2sRDJNF5w_4uVi0rzUCQ00wjnPPz_aRONGixOeDwIaAjn_EALw_wcB
[3] https://www.bowelcanceraustralia.org/modifiable-risk-factors
[4] https://www.garvan.org.au/research/diseases/cancer-bowel?gclid=Cj0KCQiAkZKNBhDiARIsAPsk0WglA0uwSYiA4SdRCjNDqoTDlobVSewSEt0YFTLoU79oHfmwU0k1hPwaAkV0EALw_wcB