Sydney's third annual Recovery Walk – reducing the stigma of addiction & celebrating all forms of addiction recovery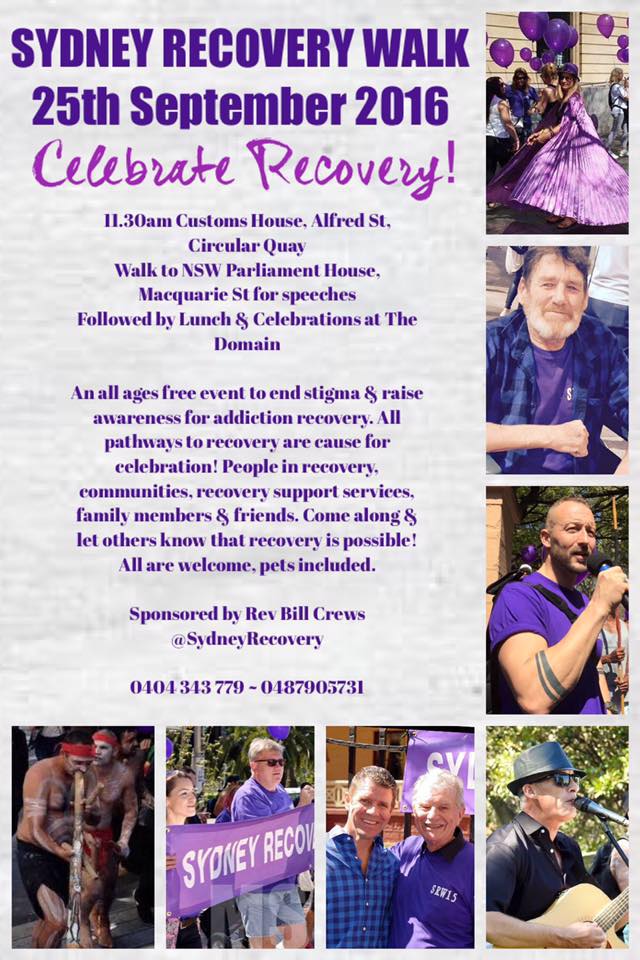 The Sydney Recovery Walk, now in its third year since inception, is set for this Sunday, September 25. The free-to-all age event aims to end the stigma associated with addiction, and to celebrate all forms of recovery.
Staged by Sydney Recovery and sponsored by CEO and founder of the Exodus Foundation, Rev. Bill Crews, the event is open to all members of the public.
NSW Member of Parliament, The Hon. Shayne Mallard MLC, will be participating in the walk this Sunday to show his support for those battling addiction, and others in recovery.
While the "road to recovery" often requires the patience of a Saint, with many experiencing pitfalls and setbacks along the way, this Sunday's walk, commencing at Customs House, Circular Quay, and journeying up to NSW Parliament House, symbolises recovery through emotional resilience and support from loved ones. The walk is also in the memory and honour of those who have tragically lost their lives to addiction.
Inspired by the global recovery movement ending shame, stigma and discrimination associated with alcohol, prescription and other forms of drug addiction, the walk aims to promote the many types of addiction and recovery support services available Australia-wide.
Sydney mother-of-two in recovery from an alcohol and opioid dependence, Jessica, 42, is leading the charge on behalf of her Sydney Recovery group this Sunday, calling for an end to destigmatisation and discrimination of those battling addictions. She plans to conclude the walk with a delicious picnic lunch with other like-minded and supportive members of the community.
"I want to see an end to stigma and discrimination, and to challenge the stereotypes of what people in recovery are perceived to be, or look like," said Jessica.
Entering rehabilitation was overwhelming for Jessica, who at her family's ongoing insistence, at the age of 31, finally sought assistance to tackle her devastating addiction.
On the way to her first session, Jessica had a pre-conceived idea of what she would face, but was pleasantly surprised to learn that those battling similar addictions were everyday Australians, ranging from working professionals, to those with families and singletons.
Jessica attributes the start of her alcohol addiction to enjoying casual drinks with her friends after graduating from highschool. Gradually, over time, her addiction spiralled out of control, and much later developed into an opioid dependence from an initial codeine-containing medication prescribed by a dentist to manage the pain of her wisdom tooth extraction.
At the height of her dependence, Jessica was taking up to 92 painkillers a day – a behaviour that was wreaking havoc on both her physical and emotional health and wellbeing.
Eventually, armed with a steely determination to address her opioid dependence, Jessica returned to a recovery support group, attending up to six sessions per week. Nowadays, she has reduced her attendance to two meetings per week.
To show your support for Jessica and other members of the community, help destigmatise addiction and to celebrate all forms of recovery, participate in this Sydney Recover Walk this Sunday, September 25.
Head to Customs House, Alfred Street, Circular Quay at 11am for an 11.30am start. Walk up to NSW Parliament House, Macquarie Street, to listen to speeches. Then head to The Domain for lunch and further celebrations.
To learn more, or to show your support, join the Sydney Recovery community here