Stephanie, 42, Pneumonia takes heavy toll on marketer & mother-of-two, SYDNEY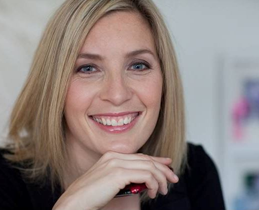 In July 2013, having just started a new role, then 39-year-old Sydney-based professional marketeer and mother-of-two, Stephanie, took ill.
Plagued by a productive cough, fever and overwhelming exhaustion for weeks on end, Stephanie dangerously chose to soldier-on. Until one day, when she pulled up to the curb to collect her children from school, stepped out from her car, and collapsed.
Stephanie was rushed by ambulance to RPA Hospital, Sydney, where she was subsequently diagnosed with viral pneumonia.
Nowadays, Stephanie is highly cognisant of the seriousness of pneumonia, and plans to talk to her GP about getting her elderly father vaccinated against pneumococcal pneumonia, to ward off the often fatal lung infection.
This is her story.
"I had a productive cough that wouldn't resolve and a fever. I was tired, and felt generally unwell," recalled Stephanie.
"My cough was painful, but I was prone to chest infections. I had contracted whooping cough three years earlier, and given the propensity for this infection to leave scar tissue on the lungs, I just attributed my cough to that."
Just a few months earlier, Stephanie had started a new job, and was therefore, not keen to take too much sick leave from work. So she endeavoured "to push through" her sickness, hoping it would resolve.
"I started my job in March and fell sick in July. I tried really hard to juggle my work and home commitments while feeling ill at the time, and continued to attend work and to ignore my symptoms.
"My employer wasn't too happy about my request for sick leave, and over time, it became really tricky, so that compounded my stress," Stephanie said.
Despite the escalating severity of her illness, Stephanie continued to juggle her professional commitments with motherhood, believing her failure to have an annual flu shot that year, combined with the earlier episode of whooping cough, had increased her susceptibility to a chest infection.
When driving to collect her children from school one afternoon, on August 16, 2013, Stephanie became faint, and developed pins and needles up and down her arms, and in her feet.
"Fortunately, I drove the whole way to my children's school. But when I stepped out of the car to greet my kids, I hit the ground," said Stephanie.
Stephanie was subsequently rushed by ambulance to the emergency department of RPA Hospital, where she underwent a chest X-ray and was diagnosed with community acquired pneumonia (CAP), otherwise known as "walking pneumonia."
Following her diagnosis, Stephanie was hospitalised overnight for observation, before being discharged and armed with a course of antibiotics and strict instructions to rest in bed.
Stephanie spent the ensuing two weeks bed-ridden, mounting a recovery from the potentially life-threatening infection.
"My brother contracted pneumonia as a child, so I had some understanding of its severity," Stephanie said.
"But although the infection was on my radar, I was never overly conscious of it.
"In fact, it's an infection that's not often talked about – it's certainly not on everyone's radar," said Stephanie.
"At the time I fell sick, I had so much going on, with my new job and kids, that I mistakenly chose to ignore my illness, hoping what I believed to be a chest infection would resolve with time."
Pneumonia took a heavy toll on Stephanie. The infection left her with little option but to quit her job in order to focus on improving her health and wellbeing. It took several months before Stephanie secured a new role as Head of Marketing at the National Breast Cancer Foundation (NBCF).
"Contracting pneumonia impacted me financially. I was forced to quit my job because of the extended sick leave I needed to take in order to mount a full recovery from the infection," Stephanie said.
"During this period, I also stopped visiting my friends, and going out and socialising, because I was too sick and weak from the infection."
The following winter post- Stephanie's recovery from pneumonia, she developed another debilitating chest infection, bronchitis, that lingered for much longer than she anticipated.
Today, Stephanie is acutely aware of her vulnerability to pneumococcal infection.
"Moving forward, when I hit my mid-60s, I will definitely consider vaccinating against the bacterial strain of pneumonia – pneumococcal pneumonia – and will certainly speak to my doctor about it.
"In the interim, I also plan to tell my dad about the pneumococcal vaccine, because I'm not confident he's aware that it's available. In fact, I can't remember him ever being vaccinated against pneumococcal pneumonia, and he's certainly at high risk of infection due to his age, despite being otherwise healthy.
"My dad's 81 years old, so I'll be sure to talk to my GP about getting dad vaccinated," Stephanie said