Shining a light on men's mental health this International Men's Day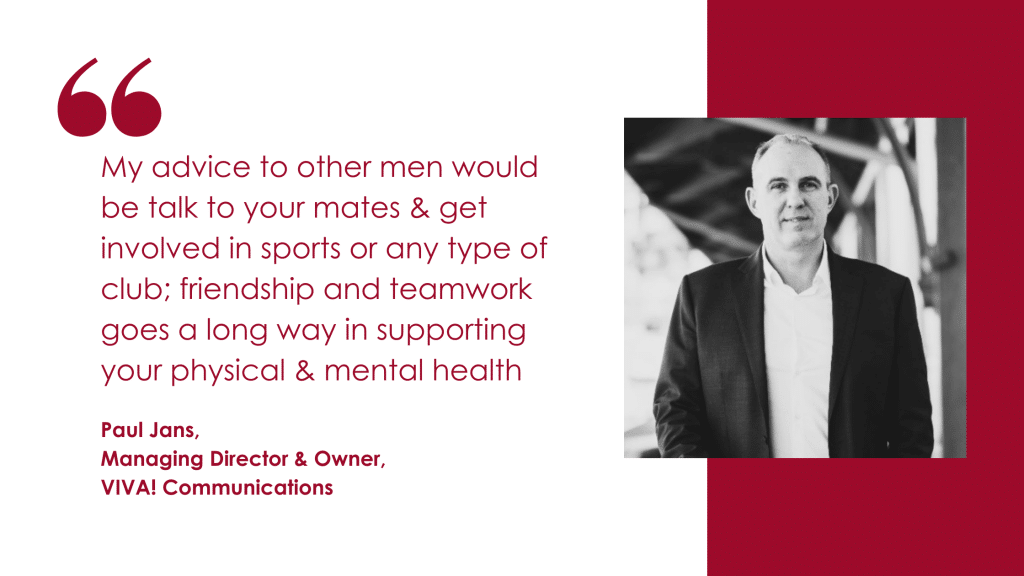 Today is International Men's Day, a day both celebrating the positive male role models in our communities, and also highlighting some of the current health challenges facing men around the world.
To celebrate this International Men's Day, we talked to loving husband, father-to-three and Managing Director and Owner of VIVA!, Paul Jans about some of the health challenges faced by Aussie men, and how he creates a work-life balance to look after his mental health.
"Heart disease, stroke and cancer are some of the main health issues facing Australian men. Unfortunately, men often don't speak to their doctor enough and may not be aware of the symptoms to look out for, so it's important to be proactive," Paul said.
"The other highly important men's health issue that needs to stay front of mind is mental health."
Each day in Australia, seven men die by suicide[1], with men being three times more likely to die from suicide than women.[2]
"The public agenda around mental health is improving, and there are increasing opportunities for men to discuss problems like anxiety or depression.
"As this momentum and acceptance continues to build over the coming years, I hope we see the dreadful suicide rates start to improve," said Paul.
There remains an urgent need to bolster the public conversation around men's health, in particular mental health, to address long-standing misconceptions.
"Particularly for men, there is often this misconception that depression and anxiety are signs of weakness or this idea that mental illness only means depression," Paul said.
One in eight Australian men will experience depression.[3] However, according to Beyond Blue, one in five men will experience anxiety[4] at some point in their lives, making anxiety disorders more common than depression.
Ensuring good work-life balance and building a strong support network is crticial to helping improve mental health and wellbeing.
"Whether it is having a beer at the local pub or shared lunches, or heading to a football game, it's important to spend time with your mates. I have found this not only helps my mental health but has allowed me to create a good work life balance because I get to have down time doing things I enjoy," said Paul.
VIVA! is incredibly lucky to have a role model like Paul, who is passionate about creating a work environment that supports employee's mental wellbeing & is a strong advocate for men's health issues.
"My advice to other men would be talk to your mates and get involved in sports or any type of club; friendship and teamwork goes a long way in supporting your physical and mental health.
"Ask your mates how they're doing, reach out to them if you need to talk, and don't be afraid to use to the plethora of support services available."
To learn more visit: www.internationalmensday.com
Should you suspect that you, or a loved one, may be living with a mental illness or need help, speak to your local healthcare practitioner without delay, or head to www.beyondblue.org.au to access more information and professional support.
Australian professional patient support services offering 24/7 helpline services include:
Men's Line Australia: 1300 78 99 78
Beyond Blue: 1300 22 4636
LifeLine: 13 11 14
Kids Help Line: 1800 55 1800.
---
References:
[1] Australian Bureau of Statistics (2020). Causes of Death, Australia, 2019: Intentional self-harm (suicide), Catalogue No 3303.0
[2] https://www.beyondblue.org.au/media/statistics
[3] https://www.beyondblue.org.au/who-does-it-affect/men
[4] https://www.beyondblue.org.au/who-does-it-affect/men