Sandra, 69 Retired mother-to-two, grandmother-to-one & advocate for seniors protecting against pneumococcal pneumonia, BRISBANE – May 10, 2016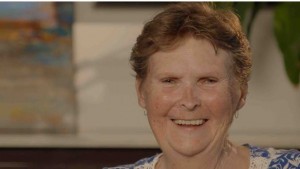 Retired mother-to-two and grandmother-to-one, Sandra, 69, South Brisbane, contracted the potentially life-threatening illness, pneumococcal pneumonia, in 1995, at the age of 48.
The diagnosis came as a huge shock to the then grocery store manager, who had been leading a healthy and active life up until then, regularly swimming and walking to maintain her fitness.
Overwhelmed by poor lung capacity and lethargy, Sandra spent the ensuing three months post- diagnosis, recovering from the often fatal lung infection, which included six weeks of rigorous physiotherapy.
This is Sandra's story.
"I had been struggling to breathe, and get air into my lungs. I was also really tired all of the time, and had absolutely no energy," said Sandra.
During the spring of 1995, Sandra began struggling to breathe. Concerned about her breathing growing increasingly laboured, she visited her local hospital at Woodridge, Brisbane, where she was diagnosed with pneumococcal pneumonia.
"Every day while I was mounting my recovery from the infection, a physiotherapist would visit my house. I had six weeks of physiotherapy, and when the physio worked on me, I found it often uncomfortable, and even painful," Sandra said.
Bed-bound throughout her recovery for three months, Sandra was unable to work, look after her then teenagers, or to perform general housekeeping duties.
"It was a difficult time because I had teenage kids with various needs and commitments, and my husband had to work to work to support all of us.
"My mum, who was alive back then, had to travel up from NSW to look after me, the kids and our home," said Sandra.
"I couldn't work, take care of my family, or even exercise. I had no energy – I couldn't do anything.
"Every time I tried to do something, like get up to vacuum or dust the house, I was so overwhelmed by pain, that I had to go back to bed," Sandra said.
"Struggling to get oxygen into my lungs or body left me feeling weak and lethargic. It was a terrible sickness.
"I had previously heard people complain of the pain they experienced with pneumonia, but I could never fully appreciate the extent of this pain, until I developed the debilitating infection," said Sandra.
"The infection really knocks you about. All I wanted to do was to lie down, curl up and go to sleep."
Today, Sandra is a strong advocate for maintaining good health and ageing well. Despite experiencing a heart attack in 2005, Sandra continues to enjoy life, participating in a walking group, and as an active member of a 4Wheel-Drive Club. She spends her spare time volunteering for Lung Foundation Australia and the Heart Foundation.
Sandra's ordeal with pneumococcal pneumonia has strengthened her resolve to protect against vaccine-preventable infections.
"I first heard about a vaccination to protect against pneumococcal pneumonia in 2011, and made sure I was vaccinated then," said Sandra.
In April this year, Sandra had her second pneumococcal pneumonia vaccination, to protect herself from reacquiring the infection.
"Having just had my second vaccination against pneumococcal pneumonia, I feel confident I've done everything I can to protect against developing the infection again.
"I'm just about to turn 70, and having experienced pneumococcal pneumonia and a heart attack, I no longer feel invincible. You just never know what's around the corner," Sandra said.
"I do however, have people in my walking group around the same age who say, 'I've never had the flu, or, I don't need that medication or vaccination, and the next thing you know, they're in hospital fighting for their lives because they failed to protect themselves against infection.
"Everyone in their mid-60s is at risk of developing pneumococcal pneumonia, purely based on their age. It could happen tomorrow, next month or next year – you just never know when," said Sandra.
Given her experience of pneumococcal pneumonia, Sandra encourages everyone who is eligible for the vaccination, including those aged 65 and over, to talk to their doctor about protecting against the often fatal infection," Sandra said.
"Although we still may feel young and invincible in our mid-60s, age does compromise the immune system.
"That's why it's important to maintain good health and wellbeing, which for me, includes eating well, exercising and protecting against vaccine-preventable infections, such as pneumococcal pneumonia,"       Sandra said.