Pharmacy Guild of Australia & VIVA! Communications clinch Australia's Best Public Health Initiative 2018 at PRIME Awards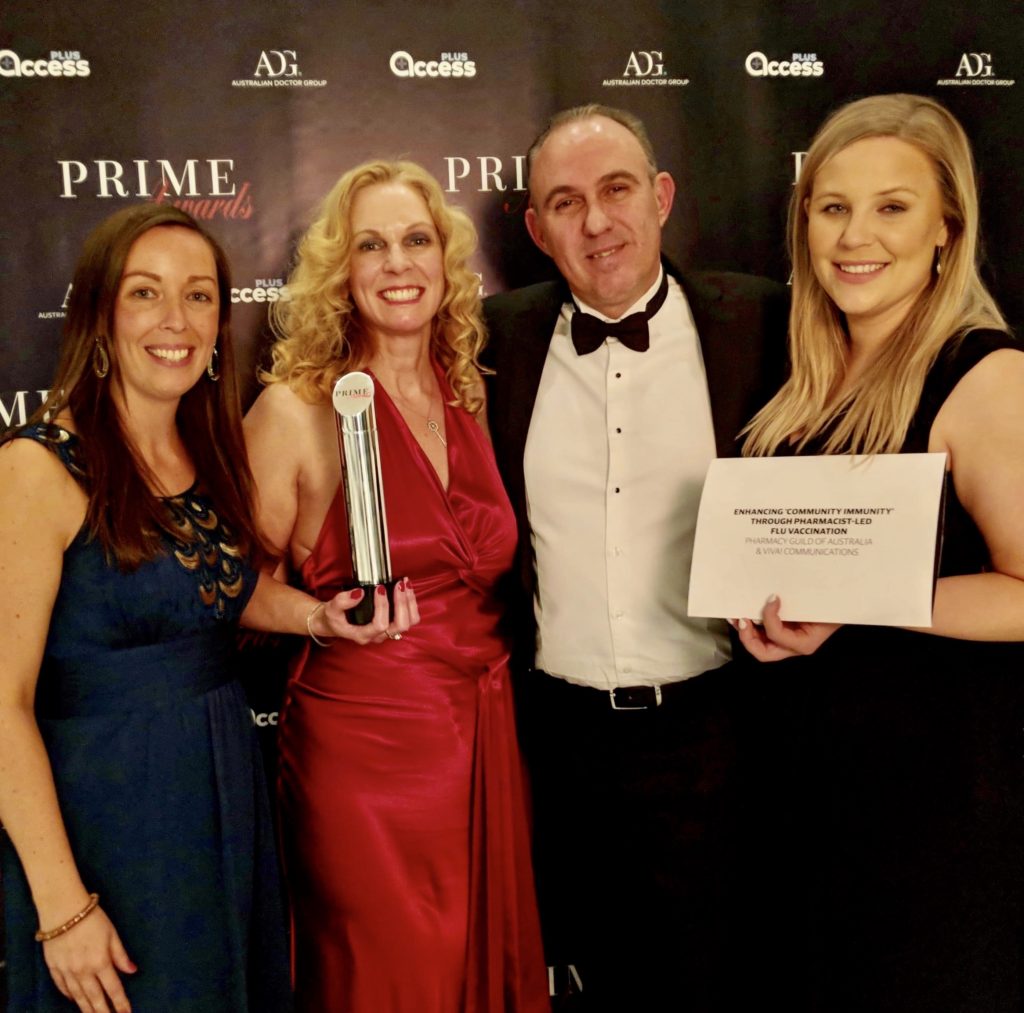 Last night (September 20) Team VIVA! celebrated a huge win. Together with the Pharmacy Guild of Australia, we clinched Australia's'Best Public Health Initiative 2018'award for our 'Enhancing 'community immunity' through pharmacist-led flu vaccinationcampaign at the pharmaceutical industry's annual PRIME Awards.
Held at The Four Seasons Hotel, Sydney, the event attracted more than 800 of the nation's leading pharmaceutical CEOs, marketers, PR and medical education consultants.
VIVA! Principal, Kirsten Bruce and the agency's Senior Account Director, Julia Slater took to the stage to accept the accolade – the first announced at the awards night.
"I'm flabbergasted", said Kirsten upon accepting the award.
"This is the second year in a row that we have teamed with the Pharmacy Guild of Australia to reinforce the seriousness of flu, generate awareness, and drive community uptake of, pharmacist-administered flu shots, before winter.
"As the nation's most accessible healthcare professionals committed to safeguarding the health of all Australians, community pharmacy represents a compelling, complementary (to GP) flu destination," said Kirsten.
"This was a record year for flu vaccination uptake in which community pharmacy played a pivotal role.
"We're delighted to have made a positive contribution to protecting the community against this preventable infection," Kirsten said.
Kirsten thanked the Pharmacy Guild of Australia for the opportunity to partner with their pharmacist members and the community at large, to increase the volume of pharmacist-administered flu vaccinations pre-winter, and to ultimately improve the standards of treatment, in order to enhance "community immunity" against flu.
This year marked VIVA!s fourth PRIME award.
VIVA! will head to the Public Relations Institute of Australia (PRIA) Golden Target Awards (GTAs) next month with hope of adding a few more gongs to the trophy cabinet.
Be sure to visit our blog for further updates.