Laurie makes a splash with Team VIVA!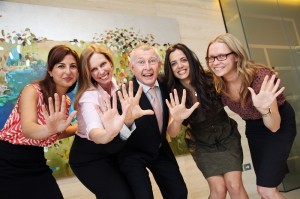 Team VIVA! had the pleasure of working with Olympic and World Champion swim coach, Laurie Lawrence at a national nursing conference on the Gold Coast today (Friday, March 2, 2012) to call upon the Government to fund a national network of community-based Parkinson's nurse specialists.
Lawrence lent his voice to the call in support of his life-long friend, former Australian butterfly champion and his former assistant coach, Ian Findlay, who was diagnosed with young onset Parkinson's in 2004 at 40 years of age.
"I coached Ian as a young athlete and I know of no one who trained harder than he did. Once he finished his competitive career, I asked Ian to become my assistant coach. We've been friends for 28 years.
"He is a true champion.  Ian has tremendous courage and has overcome many obstacles – physical and mental – throughout his distinguished career. Since his diagnosis, he has changed from being an outgoing, bouncy fella to someone who is more introspective and cautious. He works incredibly hard to fight the symptoms of Parkinson's with assistance from his hospital-based nurse and his wife, Nicole, who has given up her career as a school teacher to care for him. Both are integral to his physical and mental wellbeing.
Having access to a local, community-based nurse would further complement his support network," said Mr Lawrence.
To learn more about Parkinson's, visit Parkinson's Australia at www.parkinsons.com.au