Launch of InsideOut Institute – Australia's first institute for research & clinical excellence in eating disorders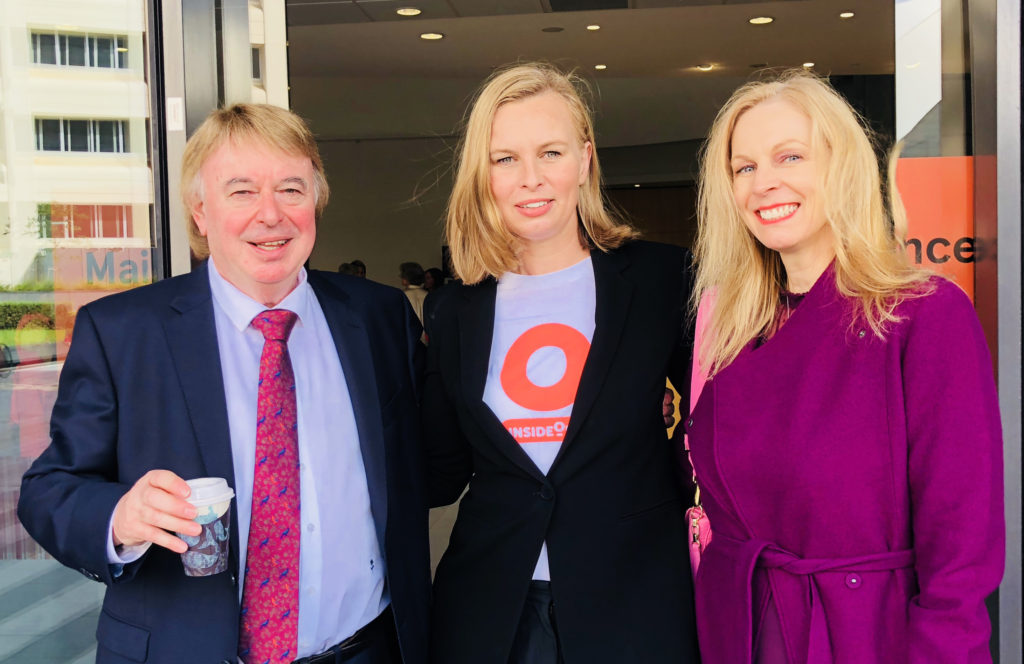 l-r: Prof Stephen Touyz, Advisory Council Chair & Lead Researcher, InsideOut Institute; Dr Sarah Maguire, Director & Clinical Psychologist, InsideOut Institute; & Kirsten Bruce, VIVA! Communications Principal & Advisory Council member, InsideOut Institute
Australia's national institute for research and clinical excellence in eating disorders was launched today by Federal Minister for Health Greg Hunt and NSW Minister for Mental Health Tanya Davies.
A collaboration between Sydney Local Health District and the University of Sydney's Charles Perkins Centre, the InsideOut Institute aims to provide every Australian living with an eating disorder access to the best possible care by rethinking eating disorders from the 'inside out'.
Minister Hunt expressed support for the institute and its commitment to helping the more than one million Australians living with eating disorders.
"Bringing eating disorders out of the dark and into the light of public discourse is essential to drive change," Minister Hunt said. "I applaud the InsideOut Institute's mission to further transform the Australian treatment landscape for eating disorders through collaboration, innovative research and treatment, and by challenging perceptions and stigma."
NSW Minister for Mental Health, The Hon Tanya Davies MP, said the Institute's focus on four key pillars – research, clinical innovation, education and public policy, supported service development for eating disorders.
"Our work in NSW has already resulted in significant change to the treatment landscape," Mrs Davies said. "In 2013, NSW launched the first service plan for people with eating disorders, aimed at building collaboration across all sectors, driving an ambitious research agenda, inspiring public policy, clinical innovation and consistent translation of research findings and innovation into accessible treatment."
VIVA! Communications Principal and InsideOut Institute Advisory Council member, Kirsten Bruce expressed her delight in joining various dignitaries to mark the auspicious occasion.
"All members of InsideOut Institute's Advisory Council have worked very hard over many years to bring this initiative to fruition. I feel extremely privileged to have been a party of history in the making today, and look forward to helping drive much needed change in the eating disorders arena for many years to come."
The launch coincides with an article published in MJA InSight today, by InsideOut Institute director and clinical psychologist, Dr Sarah Maguire, calling for the destigmatisation of eating disorders to curb mortality rates through research, heightened public education and innovative treatments and services.
"Eating disorders, which originate in the mind and manifest in the body, are everyone's business," Dr Maguire said. "They are neither a choice, a diet, nor a desire to become healthy. They are complex mental illnesses that can lead to severe and permanent physical complications, and even death. Fortunately, they are also solvable."
The Chief Executive of Sydney Local Health District, Dr Teresa Anderson, said partnerships were key to tackling the scourge of eating disorders in Australia.
"For many years, Sydney Local Health District has served as a centre for clinical excellence for the treatment of eating disorders. Today's launch represents the next stage of our approach – a national, collaborative effort to ensure the best and latest research aligns with the most effective clinical practices, to improve the lives of Australians with eating disorders, and their families."
University of Sydney Vice-Chancellor and Principal Dr Michael Spence said the institute's focus reflected the University's commitment to investing in research that addresses complex problems and has a positive real-world impact.
"Remarkably, up until today, eating disorders have been the only major mental health illnesses lacking a dedicated national research institute," Dr Spence said.
"The University is proud to support the InsideOut Institute's focus on research excellence and its single-minded vision to make a positive difference to people lives."
Three-time Olympian and bulimia nervosa survivor, Jana Pittman shared her personal story at the launch. Having developed bulimia nervosa in 2004, Jana spent the next decade battling a dysfunctional relationship with food while at the pinnacle of her career. Following the breakdown of her marriage and a sporting injury, Jana turned to therapy for help.
"By speaking out I hope to encourage more conversation about eating disorders, and reassure those affected that it's okay to ask for support," she said.
"The InsideOut Institute's work will help ensure everyone living with an eating disorder feels supported in their recovery, and make significant headway in how eating disorders are both viewed and treated in Australia."
Formerly the Centre for Eating and Dieting Disorders established in 1995, the InsideOut Institute launch reflects a renewed vision and focus to be the national leader in research and clinical innovation.
If you or someone you know may be living with an eating disorder, please contact your GP or the National Eating Disorders Helpline – 1800 EDHOPE.