Latest tool for pharma marketers now available
The latest version of a global tool that provides up-to-date information on pharmaceutical marketing, public relations and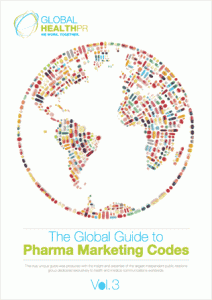 advertising codes across 16 countries, is now available thanks to our GLOBALHealthPR network.
Now in its third edition, The Global Guide to Pharma Marketing Codes, provides guidance for responsible health care public relations at local and global levels. GLOBALHealthPR partners world-wide, including VIVA! Communications, contributed to the guide to add local perspective to commonly asked questions in pharma marketing and PR.
"Governments around the globe have increased their oversight and regulation of the health industry, particularly when it comes to pharmaceutical marketing," said John Seng, Chair of GLOBALHealthPR and President of US-partner, Spectrum
"If your job requires you to understand and succeed in the marketing of pharmaceutical products on a regional or international basis, then you'll find this publication indispensable," Seng said.
VIVA!'s Managing Director, Paul Jans, says, "This is a great resource for Australian and New Zealand biotech or pharmaceutical firms looking to expand into different markets.The rules and regulations governing pharmaceutical marketing around the world are complex.
"GLOBALHealthPR's Global Guide to Pharma Marketing Codes is designed to help pharmaceutical marketers and public relations specialists design more effective campaigns," said Mr Jans.
GLOBALHealthPR is the largest independent public relations organisation dedicated to health and medical communications worldwide.
To obtain a copy of The Global Guide to Pharma Marketing Codes, contact VIVA! Communications Pty Ltd or visit www.globalhealthpr.com