Interning at VIVA! – Day 1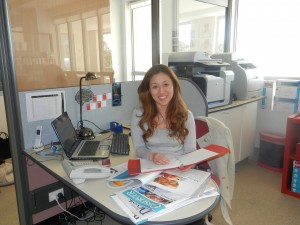 Sydney University Master of Health Communications student, Caroline Chen, is currently interning at VIVA! HQ as part of her degree. Here's what she had to say after an exciting day one:
Today was my first day as a student intern at VIVA! Communications and I must say that I'm really liking it here! Everyone has been incredibly nice and welcoming – they even had a special corporate email address set up for me upon arrival (not to mention the welcome Subway cookie from Principal Kirsten!).
So far I've had a chance to put together some media monitoring docs and do a bit of media contacting, which were all quite interesting. The girls make it look so easy but it actually requires mountains of skill to get it right!
Hopefully I can be just as productive one day, or at least try to be!! Thanks to the team at VIVA! for your support and kind directions, which has made it such an enjoyable first day for me.
On a sidenote, I got to grace the VIVA! lounge for a photo – WHOO!! It's an activity I understand to be a rite reserved generally for formal workers only, so I am deeply honoured. Even got a picture (below) to remember the moment by 😀
I'm looking forward to the rest of my time here as we have got some exciting projects coming up!