Influencing the digital landscape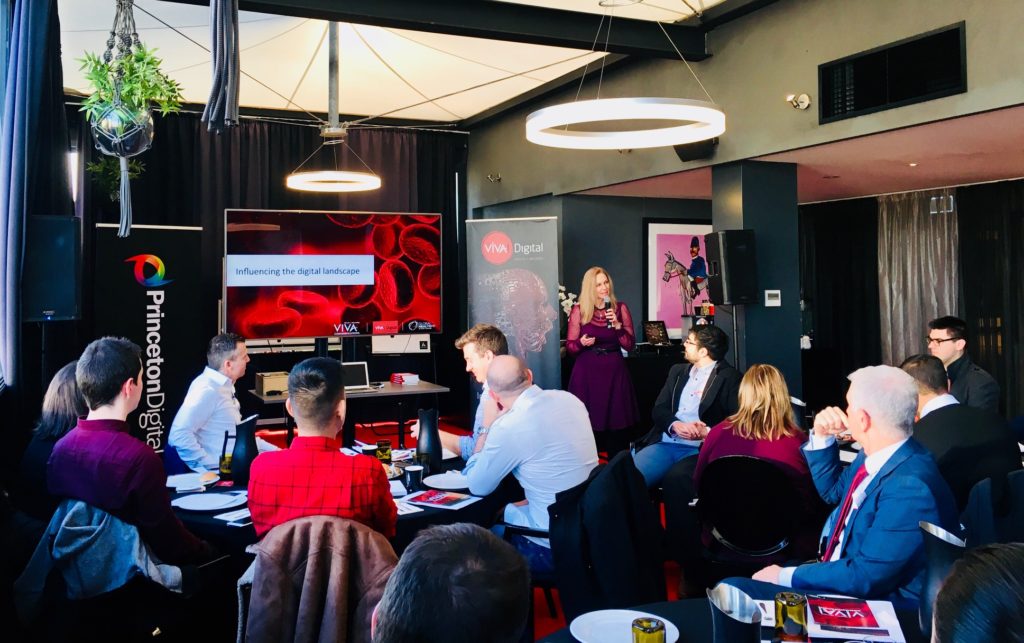 VIVA! Communications' Principal, Kirsten Bruce, had the pleasure of presenting to Melbourne's leading pharma marketers about how to influence the digital landscape at the Melbourne Pharma Marketing (MPM) breakfast seminar, hosted by Princeton Digital, at The Cullen Prahran, Melbourne on Monday, June 20, 2018.
Entitled Marketing reinvented: New rules and new tools in this digital age, the seminar focused on how evolving technology is changing the pharmaceutical communications landscape.
By marrying a suite of integrated digital solutions with innate knowledge of the various medical and regulatory Codes of Conduct, Kirsten explained to the audience how to strategically tell stories to influence conversations across a range of digital platforms and social media channels, to ultimately meet business objectives.
"At VIVA!, we create + integrate + connect. We combine our health + wellness communications expertise and proficiency in digital and social, to influence the digital landscape.
"We utilise the most effective, proven digital solutions in our fully integrated campaigns, from mobile-enabled websites, digital media kits and 3D animations, to animated infographics, apps and bespoke web content," said Kirsten.
"We produce innovative visual solutions to help maximise campaign outreach, from video news releases (VNR)s, documentaries and corporate videos, to TV and radio community service announcements (CSA)s, radio ads and cinema trailers.
"Importantly, we collaborate with health stakeholders to perform strategic health + wellness social media campaigns utilising digital platforms that connect with key audiences," Kirsten said.
"This is our recipe to performing innovative, agenda-influencing, award-winning campaigns."
Princeton Health's General Director, Gavin Walsh, provided an overview of this year's findings from the company's 'Mobile Medic Survey', now in its eighth year.
According to the survey findings, clinicians primarily read content on their mobile devices and are mainly IOS users. With the rapid expansion of the digital communications toolbox, 78 per cent of clinicians said they would like to see pharmaceutical companies create more digital tools and resources for their patients, while 58 per cent cited they would use an app delivering content in augmented reality.
Guest speaker, author, media commentator and digital futurist, Steve Sammartino, delivered an insightful and entertaining presentation on how evolving technology is shaping today's society and the corporate landscape.
"There is no digital now – digital is life," said Steve, who further explained how society is being democratised by technology. On the topic of the human-technology collaboration, he argued that "technology should be used to augment humans, not to replace them," with the aim of reducing friction and improving efficiency.
"The business we are in are the problems we solve, and when a new technology arrives, we can solve a problem in a new way." However, in order to fully embrace this era of rapidly evolving technology and what it has to offer, Steve emphasised the need to "un-learn what we know and adapt our way of thinking."
The evolution of the smart phone has armed the average person with "super powers", with "the entire world's worth of knowledge in the palm of your hand, the individual is empowered more than ever before," said Steve.
Steve also canvassed the emoji as a language in itself, citing "For the first time in known history, we have developed a common language that can be understood all over the globe, regardless of the language you speak." There are allegedly 2,606 emojis and no doubt more to come from the "Unicode Consortium" charged with emoji development.
VIVA! Communications was delighted to sponsor this week's MPM and we very much look forward to the next seminar set for September this year.