Improving care for people living with rare diseases – World Rare Disease Day 2014
Today marks the 7th annual World Rare Disease Day in which Australia has participated for the past five years.
Today experts are meeting to highlight the issues of rare disease and the implications for those living with or affected by these diseases.
The main objective of Rare Disease Day is to raise awareness about the personal impact of rare diseases on patients and their families and how to improve care for people affected by these diseases.
Diagnosing rare diseases can prove problematic, while treatments for these diseases re often not available and supportive care therapies can prove extremely taxing on the body, time and quality of life.
According to Rare Voices Australia, there are more than 1.2 million Aussies living with rare diseases, with an estimated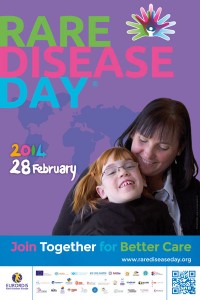 1-in-12 people, or 5 – 8 per cent of the population affected by a rare disease at some point during their lifetime.
Over 8,000 known rare diseases affect more than two million Australians, 400,000 of which are children. Devastatingly, 30 per cent of patients with a rare disease will die before their fifth birthday.
The World Rare Disease Day mission statement states "People who are affected by rare diseases should be entitled to have the same treatment, access and quality of care as any other patient. Rare Disease Australia seeks to push for a National Rare Disease Plan to prevent those inflicted 'falling through the cracks' of the Australian healthcare system."
Today represents an opportunity to learn more about what it means to have a rare disease, and to express your support for improving care for those people living with, or affected by  rare diseases.