Improving access to treatment for Australia's leading cause of cancer death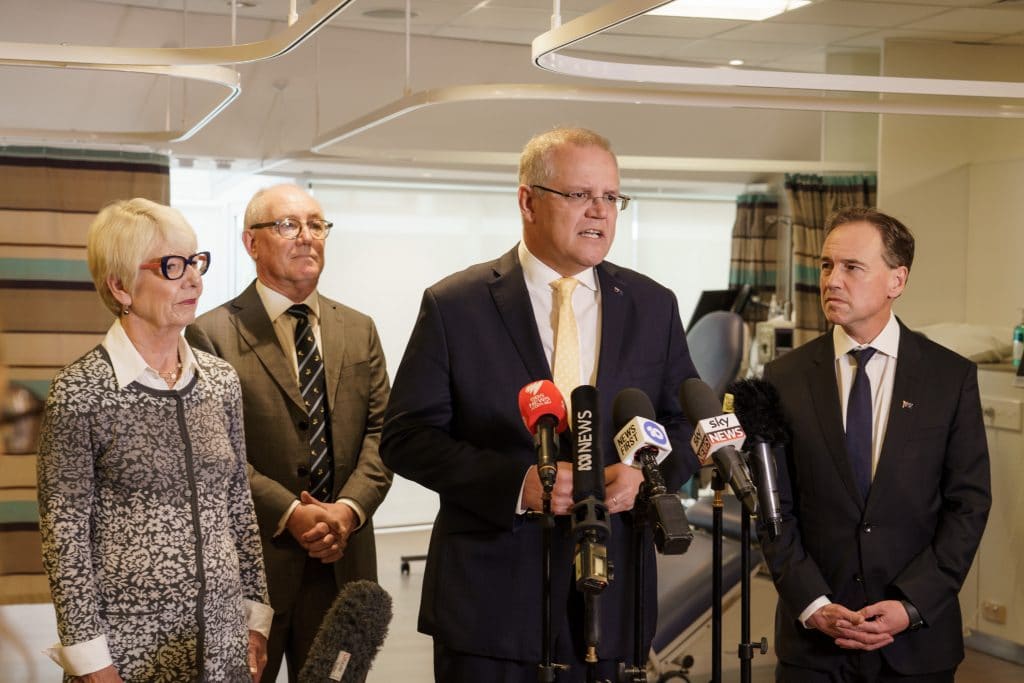 VIVA! Communications is delighted to have partnered with the Prime Minister, The Hon. Scott Morrison MP, Federal Health Minister, The Hon. Greg Hunt MP, medical oncologist, Professor Stephen Clarke OAM, CEO of Lung Foundation Australia, Mark Brooke, General Manager of Roche Australia, Stuart Knight and lung cancer patient, Pernille at the Northern Cancer Institute yesterday to announce the listing of a non-small cell lung cancer (NSCLC) immunotherapy combination treatment on the PBS today (October 1, 2019).
Yesterday's joint Ministerial PBS listing announcement coincided with expert calls for ongoing, improved treatment access for all Australians living with lung cancer.
"Lung cancer is Australia's leading cause of cancer death, with the disease expected to claim 9,000 Australian lives this year," said Prof Clarke.
"Concerningly, we are still seeing unacceptable differences in lung cancer survival rates depending on postcode. Those from low socioeconomic and rural areas are experiencing lower survival rates compared to the national average, partly due to the challenges they encounter in receiving timely diagnoses and access to treatment.
"Most recently, immunotherapies are being combined with other treatments for lung cancer, including chemotherapy, and these combinations are showing encouraging improvements in lung cancer survival for some patients," Prof Clarke said.
"The listing of such combinations on the PBS is welcome news for clinicians and patients alike, given they are helping to close the treatment access gap, and improve the quality of life of Australians with lung cancer."
Mr Morrison reinforced his Government's strong fiscal management, citing "The Government's commitment to ensuing that Australians can access affordable medicines, when they need them, is rock solid. This includes continuing to cut the cost of medicines for patients through the PBS safety net".
Since 2013, the Morrison Government has listed more than 2,100 new or amended items on the PBS, representing an average of 31 listings per month at an overall cost of approximately $10.6 billion. An additional $390 million in mandated price reductions across 175 branded medicines will flow onto patients tomorrow, increasing access and affordability.
"Our plan for a strong economy continues to deliver record funding for essential health services that saves lives," said Mr Morrison.
According to Mr Brooke, increasing treatment access is crucial to improving a lung cancer patient's quality of life.
"Lung cancer has one of the lowest five-year relative survival rates – 17 per cent – compared with Australia's top five most commonly diagnosed cancers, which range between 69 and 95 per cent.
"The PBS listing of an additional NSCLC treatment option arms patients and their careres with hope, and importantly, the potential gift of extra time to spend with their loved ones, to perhaps celebrate an important milestone, such as Christmas, a family wedding, or the birth of a grandchild," Mr Brooke said.
With lung cancer claiming the life of an Australian each hour, Mr Knight expressed his delight in Roche Australia's ability to offer another treatment option to those living with the devastating disease, citing "the Government's reimbursement of another lung cancer treatment option helps meet the substantial unmet need of this group of patients".
For more information speak to your healthcare professional.