Heather, 59 Volunteer & mother-of-two who was struck down by influenza for a fortnight, MELBOURNE
Community volunteer, mother-to-two adult children and "diehard Collingwood supporter" who was awarded a State medal for her bravery during the 'Black Saturday' bushfires of 2009, Heather, 59, Melbourne, enjoys the simple things in life, such as gardening, jigsaw puzzles and good coffee.
 For years, Heather had a clean bill of health, until she contracted the flu 10 years ago – a "horrible experience" that, to this day, remains indelibly etched in her mind.  
She experienced severe aching joints, headaches, lethargy and loss of appetite.
Ever since, she has vaccinated against the flu each year, to help protect herself, and her loved ones, from infection.
She is also a strong advocate for pharmacist-administered flu vaccinations in pharmacy, due to the accessibility, convenience and cost-effectiveness that pharmacy vaccination offers the community.  
This is Heather's story.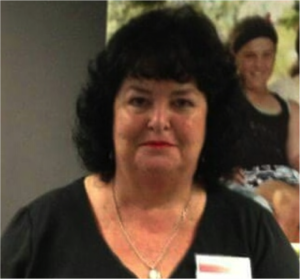 "When I had the flu, I was off work for two weeks, bedridden and feeling terrible.
"My aching joints were the worst part. My whole body hurt. I was lethargic and hurting. I had no appetite and was plagued by constant headaches," said Heather.
Heather was diagnosed with the flu 10 years ago.
"I have not had the flu since, because I get vaccinated every year around March, when the Government announces availability of the new vaccines.
"You can contract the flu any time of year, but my family and I choose to protect against the flu early, before the conventional winter 'flu season' begins," Heather said.
Before experiencing the flu, Heather had next to no understanding of the seriousness of influenza and the importance of vaccinating against the potentially life-threatening infection.
"Before I contracted the flu, I mistakenly thought it was similar to a cold, and not that serious.
"Now that I've had the flu however, I definitely recognise that the common cold and the flu are very different.  The flu is so much worse, and associated with potentially life-threatening complications," said Heather.
Heather, who is "big on community input", having received a Victorian medal for volunteering to help curtail the Black Saturday bushfires in February 2009, is passionate about building herd immunity against influenza.
"Vaccination is a necessity, and it's so easy, accessible and cost-effective to be vaccinated in a pharmacy.
"Most pharmacies are located either in a shopping centre or in a strip shopping location, so many people who live in the area are frequent visitors," Heather said.
"Pharmacies are also particularly convenient locations for older people to visit to be vaccinated, because they are so accessible, and there's no wait – it's brilliant."