Health Industry Hub Catalysts for Change Awards 2023 'PR Agency Individual of the Year'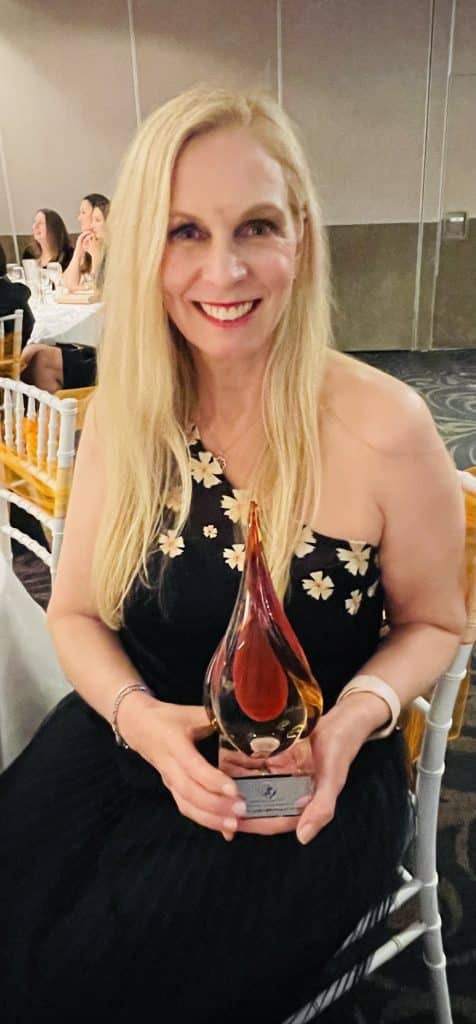 VIVA! Communications wishes to extend congratulations to our agency Principal, Kirsten Bruce, for winning the inaugural Health Industry Hub Catalysts for Change Awards 2023 'PR Agency Individual of the Year' held at Cockle Bay Wharf, Darling Harbour last night (November 1, 2023).
Celebrating the best of the best in the Australian pharma, medtech, biotech & diagnostics sectors, the Catalysts for Change Awards recognise the 'remarkable individuals & organisations who inspire us to challenge the status quo, & embark on a purposeful journey to reimagine healthcare across the entire patient journey.'
Kirsten received two nominations for the award, which was shortlisted down to three.
Humbled to have won the award, Kirsten said it was a highlight of her year.
"When I was at school, I won various awards for being able to talk under water! I've since made a career out of it!" Kirsten said.
Kirsten's passion for health communications stems from two formative experiences. During her childhood, she lived next door to the infamous Melbourne radio announcer, John Royce, aka "Royce the Voice". When John left radio to open his own communications agency, Royce Communications (now RoyceComm) – https://www.royce.com.au/ – Kirsten was granted precious, routine glimpses into the world of PR.
After prematurely losing her father (& John's best friend) to two aggressive cancers at the young age of 43, this tragic event served to lay yet another foundation for Kirsten's interest in pursuing a career in healthcare communications.
After securing a couple of degrees, & working for various local & multi-national communications agencies, Kirsten's clients started to encourage her to "go it alone".
So in 2002, "on a wing & a prayer", Kirsten founded her own, independent, specialist health + wellness communications agency, VIVA! Communications. Twenty-one years later, Kirsten still possesses an unrivalled passion for health communications.
"It's such a privilege to work in this sector across a broad spectrum of therapeutic areas with leading clinicians, patient advocacy group representatives, patients, clients & my communications team," said Kirsten.
"Being able to combine my love of science with the art of storytelling is so empowering. I don't think I'll ever tire from it.
"A huge thank you to @Rozalina Sarkezians & @Health Industry Hub for staging this event, & to those members of the pharma, medtech, biotech & diagnostics sectors for generously voting for me," Kirsten.
"This award is truly a highlight of 2023."
#PR #agency #IndividualOfTheYear #health #healthcare #communications #marketing #pharma #medtech #biotech #diagnostics #CatalystsForChange #awards #Australia