Flu vaccine prevents one in five deaths and ICU admissions, study finds
People vaccinated against influenza experience less serious flu symptoms and are less likely to end up in the Intensive Care Unit or die from the illness, compared to those who are not vaccinated, a study has revealed.
According to the study out of the University of Barcelona, 30 per cent of patients who were admitted to hospital with the virus, but did not require ICU treatment, had been vaccinated.
Comparatively, 21 per cent of patients who did require intensive care or died from the illness had not been vaccinated.
Uptake of the flu vaccine was found to have prevented 22 per cent of patients  being admitted to ICU and dying from the illness. This figure was supported in a recent Eurosurveillance study, which reported a serious outcome prevention rate of up to 44 per cent.
The authors highlighted the importance of vaccinating 'at risk' populations, such as those over the age of 65 or those with other diseases for whom the flu vaccine may not effectively prevent the infection from developing.
"Influenza vaccination could reduce ICU admissions and death rates in these patients by reducing the severity of symptoms," the authors wrote.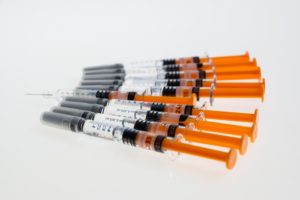 The research was conducted on people with severe cases of influenza in12 hospitals in the Spanish region of Catalonia throughout six influenza seasons from 2010 and 2016.
The study included over 1,730 patients over age 18, 53 per cent of whom were over the age of 65, who were admitted to hospital between 2010 and 2016 with severe cases of the flu.
Up to 591 were admitted to the ICU and 223 died as a result of flu-related complications.
Researchers were uncertain as to exactly why the vaccination reduced the severity of symptoms, but suggested it may be related to cellular immune responses implicated in viral clearance.
They concluded those who had been previously infected by the virus or had received the flu vaccine would likely benefit due to pre-existing cross-reactive  cytotoxic T lymphocytes memory, reducing the severity of the infection in the absence of protective antibodies.