Five Minutes with pioneer travel health expert, Dr Deb Mills
Dr Deb Mills or "Dr Deb" as she is affectionately known by her patients, is a leading Australian travel doctor and author of 'Travelling Well' – the must-have guide to enjoying good health while travelling.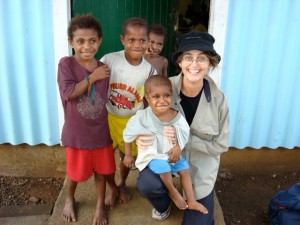 The local pioneer of travel medicine, who began working in the field in 1988, runs a travel clinic in Brisbane and represents the Travel Medicine Alliance as a spokesperson.
Dr Deb combines her vast knowledge of infectious diseases with her personal experience trekking across seven continents, to ensure patients get the critical 'been-there-done- that' information required to travel with confidence.
VIVA! recently partnered with Dr Deb on a hugely successful public health campaign designed to encourage Queensland 'Schoolies' to travel and party safely be taking necessary travel health precautions before heading offshore to the new hot-spot 'Schoolies' destinations.
This week we are pleased to introduce you to our client and friend, Dr Deb.
Q.        Describe yourself in one sentence.
A.         I am a medical doctor and keen traveller who has the good fortune of combining   two passions in my work – health and travel.
Q.        What do you love most about travelling?
A.         I love the adventure of seeing new things, meeting new people, and discovering how people solve the ongoing challenges of the human condition.
Q.        What is your favourite holiday destination and why?
A.         My favourite destination for holiday relaxation would be the Three Valleys in France. This destination offers great skiing, great mountains and wonderful French food and French champagne.
My favourite adventure holiday is Bhutan. This destination offers great trekking and more great mountains. I also love Bhutanese food and the peoples sense of humour.
Q.        If you could only pack five things for a holiday what would they be?
A.         Such a hard question – so much of one's suitcase is not clothes!
I'd pack my passport and paperwork, medical kit, iPhone with camera, a change of clothes and my reading glasses.
Q.        What's the most difficult situation you've found yourself in while travelling?  
A.         Accommodation is always a good source of stories. No accommodation is of course the most difficult situation – from not being able to find anywhere to stay, or upon arrival being told there is no booking because the travel agent got the date wrong. I like to give virtual prizes when I travel.
My prize for the worst hotelier was in New Zealand. He would have made Basil Fawlty proud when he told me he was "really sick of the rotten guests!"
The French win the prize for the tiniest rooms. PNG gets the prize for the most unpleasant fellow occupants – bedbugs!
I've been in rooms in India that have been flooded by poor plumbing (thankfully only water), and have spent many nights in all countries with inconsiderate noisy or drunken neighbours, or with fights in the street below.
The weirdest noisy room was in Australia. One evening I was startled to hear voices coming from the cupboard in the room where I was staying. It was a groom thanking his best man for punching someone on his behalf, and his bride was crying, and on it went. There was a hole in my cupboard that gave me a front row seat to the very colourful wedding in the function room below.
Q.        What changes would you like to see the travel sector make within the next five years?  
A.         I would like the travel sector and everyone working in the industry to review every decision they make through the filter of environmental sustainability.
"We need to work harder to protect our soil, water, air and biodiversity so that we can keep travelling for centuries to come."  
Q.        I do what I do because …
A.         "I love travelling, and I think it's a great force for increased tolerance and understanding."
I hate to see travellers suffering preventable illness or injury when good preparation could have made such a difference. I love feeling connected with all the people wandering the planet.
To learn more about Dr Deb and her clinics visit
Dr Deb The Travel Doctor – www.thetraveldoctor.com.au
Download Dr Deb's Travel App here [hyperlink to app]