Curtains down on internship at VIVA!
Sydney University Master of Health Communications student, Caroline Chen, has just completed an internship at VIVA! HQ. Here's what she had to say about the experience: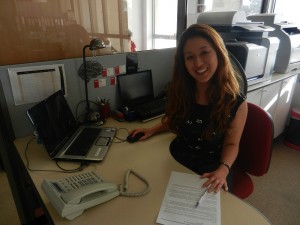 After two months of interning at the fabulous and frantic VIVA! headquarters it saddens me to say the end has come all too soon. Nonetheless it's been lots of fun and I am grateful to have had the opportunity to experience the excitement first hand. I even managed to pick up a few things on the sly…
My tasks at VIVA! comprised contacting the media, media monitoring, data collection, transcribing interviews and some event-based writing – all of which have forced me to recognise that there is so much more work involved than meets the eye!
Take interviews for instance, to aid television broadcasts VIVA! often records video news releases (VNRs) featuring interviews with key spokespeople, of relevance to the particular health issue of interest at the time. This involves members of the VIVA! team organising interviews with key spokespeople, conducting actual interview and shooting overlay. Each question or take may require several attempts to perfect. Back at the office, the interviews are transcribed, overlay times are recorded and actions described. Interviews require additional transcriptions of each question and answer, and general shot notes. Once this is completed, the usable segments are only then ready to be edited for a story which VIVA! has already completed media alerts, media releases and background documents… have I lost anyone yet?
Point of the story is, it was truly astounding to witness the level of complexity and amount of work that goes on behind the scenes. To learn just how much the PR work generated by VIVA! contributes to shaping of public knowledge makes it hard to imagine what media and organisational communications were like before the birth of PR.
I now know that contrary to popular belief, PR doesn't just mean flashy events and corporate announcements in times of crises. Public Relations is an indispensable aspect of organisational operations and its far-reaching realm means involvement in all aspects of communication, including interviewing, researching, writing, contacting the media, sales, broadcasting, advertising, media monitoring and much, much more. My observations have found VIVA!'s work not only a testament to this, but an improvement upon it, by incorporating up-beat attitudes and killer shoes into the equation.
To be a part of a Health PR company such as VIVA! means that no two days will ever be the same; that you are then part of a team of professionals who masterfully combine skills and knowledge of health, media and communications; and that the end results are guaranteed to be delivered with flair and precision.
On a final note, I'd like to do some myth busting: Contrary to chick-flick PR movies and novels like Everybody Worth Knowing, I would like to announce that NOT ALL PR COMPANIES REPRESENT THE SCARY DEPICTIONS WE SEE IN POPULAR CULTURE. Despite recollections from even serious dramas like Law and Order that have in the past insinuated that PR people are so stressed and busy, they are driven to become mean and conniving coke addicts, my recent mini ethnographic experience compels me to say that it's total bollocks and couldn't be further from the truth.
Sign up for an internship here if you don't believe me.