Celebrating two decades of health + wellness communications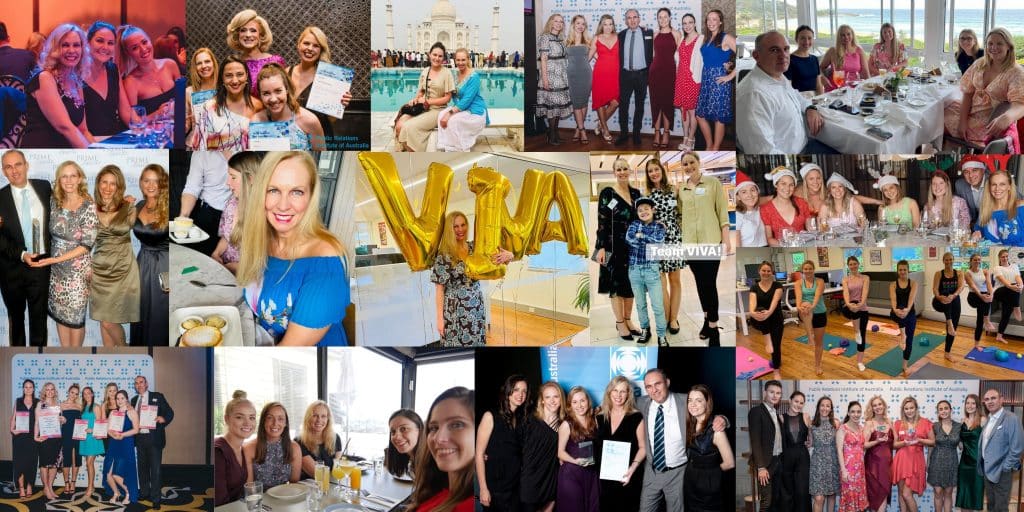 Today marks an important milestone in the history of VIVA! Communications.
I founded the health + wellness communications agency two decades ago today, after working for a number of multi-national PR agencies in Australia, and in various in-house comms-related roles.
Armed with brazen ambition, a passion for health and wellness, an unquenchable thirst for independence, and strong support from my loyal clientele, I was then the youngest of my healthcare PR peers to leave the comfort and muscle of a multi-national agency, in order to "go it alone".
Should I fail, I was relatively confident that I could always secure another healthcare PR role, preferably overseas, given I had then exhausted my preferred agency options back home.
I registered my business, set up a corporate bank account, and employed a carpenter to erect a four-metre-long glass desk and set of floating shelves in my spare room at home, which soon evolved into VIVA! headquarters.
Novartis Pharmaceuticals was my first client. I partnered with the organisation for the first four years of VIVA!s existence, coordinating clinical trial media recruitment campaigns, performing advocacy relations, issues and crisis management, product launches and disease awareness campaigns. I baked chocolate cakes each week, and invited my clients over for morning or afternoon tea to discuss their communication campaigns.
Armed with too much business to service alone, I soon hired my first team member, four months after establishing VIVA!. She was the former editor of Australian Journal of Pharmacy who had retrained in psychology. Her exceptional journalism skills and healthcare knowledge, particularly in the mental health field, enabled VIVA! to secure a number of mental health-related accounts.
Eventually, after growing tired of sweetening up our clientele with chocolate cake over my kitchen bench, I chose to abandon my home office, and to purchase an office in Chatswood, situated conveniently close to "Pill Hill" (North Ryde, Sydney, where the majority of pharmaceutical companies were then located).
The office kick-started a new, and highly profitable chapter for VIVA! Communications. It helped 'corporatise' the business, enabled us to hire more staff, and to both secure, and service more, and varied clientele.
We kept the office in Chatswood for nine years before outgrowing it. During this time, I got married, had two beautiful daughters, and successfully consolidated VIVA! Communications as a leading, independent, Australian health + wellness communications agency, with support from my invaluable team.
After a long working history with IBM, my husband, Paul Jans, chose to join the agency as General Manager in 2011, and to utilise the many skills he had acquired throughout his professional career. His invaluable skillset allowed me to focus exclusively on the communications side of the business, and to continue to work hand-in-hand with my team.
In order to fully subscribe to the "wellness" component of VIVA!, we sold our office in a high-rise tower in Chatswood in 2013 and relocated to the magical surrounds of a nature reserve, uniquely perched on a rugged clifftop in Mosman, jutting out into Sydney Harbour.
Fast forward to today. We've had a wonderful ride, peppered by many highs and lows, including most recently, the COVID-19 pandemic. We have strong Australian business and an international footprint – we represent Australia exclusively and lead the Asia Pacific region for Global Health and Marketing Communications.
With fabulous, ongoing support from my husband, I currently juggle three children – two in primary school and one in high school – with my ongoing role as Principal of VIVA! Communications. We're still based in beautiful Mosman, from which we service our local and international health + wellness communications clientele, run a team pilates session once a week, and play the odd game of tennis! We've evolved into a hybrid workforce post- COVID, whereby we spend three days a week in the office and two at home.
Today there is so much to celebrate, and be proud of. We've built a stellar health + wellness brand, and reputation in Australia, and beyond, while forging strong, longstanding relationships with our clientele and team members – noting two of our former VIVA! team members are currently our clients!
We thank you, our clientele, and team members, past and present, for your invaluable support over the past two decades. We're eternally grateful, and genuinely humbled to have partnered with you, and look forward to continuing to do so as we enter our next chapter in health + wellness comms.
Kirsten Bruce, Principal & Co-Owner, VIVA! Communications