Celebrating 30 years of the 'JDRF One Walk' for Type 1 diabetes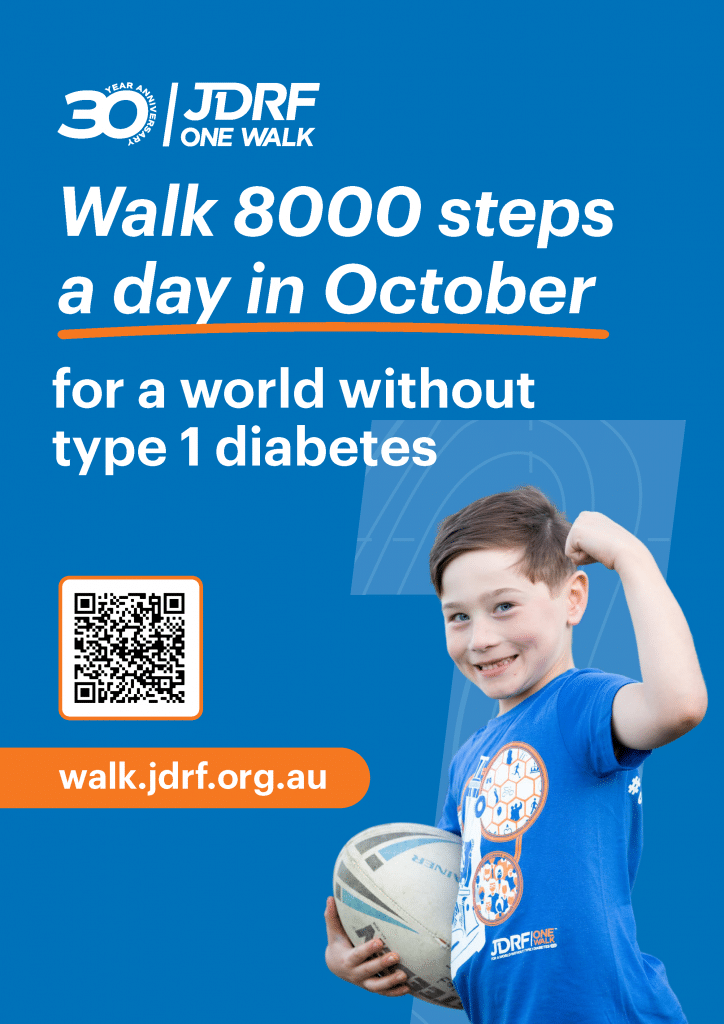 This October 2023, the Juvenile Diabetes Foundation (JDRF) is celebrating 30 years of running the JDRF local One Walk.
Striving to achieve a world free from Type 1 diabetes (T1D) courtesy of crucial, life-changing research, the JDRF One Walk event provides invaluable support to the T1D community, including the more than 130,000 Australians living with the potentially devastating disease.1
The annual event invites the broader community to unite throughout fitness, in support of this worthy cause & challenges each participant to walk 8,000 steps a day.
The fun-filled event features food & entertainment for people of all ages.
So, what is T1D?
T1D is a life-long autoimmune disease that can develop at any age, that affects the body's ability to produce insulin – a hormone that allows sugar (glucose) contained in food, to be taken up by the body's cells, to produce energy. 1-2
Without enough insulin, glucose accumulates in the blood, that can cause diabetic ketoacidosis (DKA), a life-threatening condition.2
Tragically, eight Australians are diagnosed with T1D every day and 2900+ children and adults are newly diagnosed each year1,3.
Currently, the only approved treatment for T1D is insulin, which is a life-long commitment for those living with T1D, sadly, there is no cure.1,2
One Walk events
Annual One Walk events are scheduled for on various days, see: JDRF One Walk | Walking for a world without type one diabetes to find a One Walk Event near you!
This Sunday October 29, the JDRF One Walk event will be staged at Cathy Freeman Park, Sydney Olympic Park Register – One Walk 2023 from 10am.
This year JDRF is encouraging all participants to get creative by designing & wearing their outfits with pride!
Who receives the much-needed funds raised?
All funds raised & donated to the JDRF are funnelled into groundbreaking research, focusing on:
Understanding how environmental factors influence the onset of T1D;
New screening methods to detect the onset of T1D; &
Protecting insulin-producing cells from immune attack.
To date, the JDFR community has:
Raised AUD 810,345 to support T1D research;
Recruited 3,137 walkers to take on the challenge; &
Walked a total of 159,621,671 steps across Australia.
How it works?
Sign up for FREE!
Sign up & save your spot at your local One Walk event.
Choose your fundraising goal
Set up your fundraising goal, to help support the T1D
community.
Share with your friends & family
Spread the word, invite your friends, family & colleagues to
walk with you or support you.
Attend a physical Walk event, & enjoy fund, food & fabulous entertainment!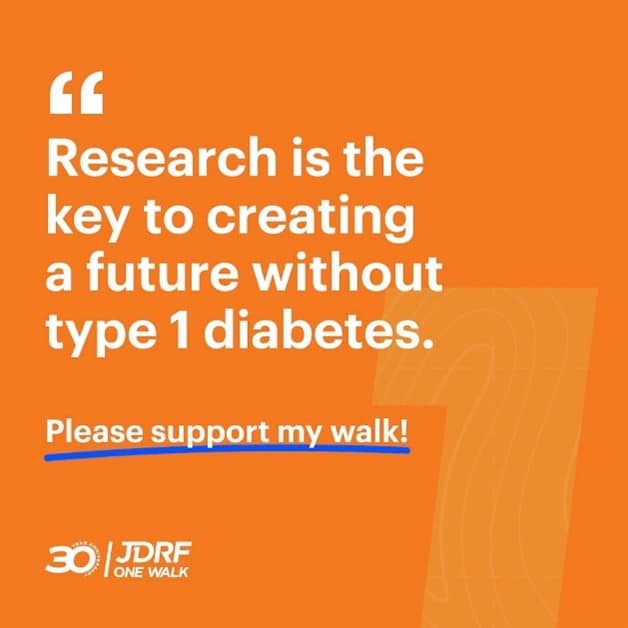 Lend your support to JDRF today!
Join one of JDFR's free, local One Walk Events this weekend, see: walk.jdrf.org.au/find-a-walk
References
Juvenile Diabetes Foundation (JDRF). JDRF One Walk 2023. 2023. [cited October 2023]; Available at: https://walk.jdrf.org.au/
Juvenile Diabetes Foundation (JDRF). What is Type 1 Diabetes. 2023. [cited October 2023]; Available at: https://walk.jdrf.org.au/about-jdrf
Juvenile Diabetes Foundation (JDRF). About JDRF. 2023 [cited October 2023]; Available at: https://jdrf.org.au/about-us/