British actor Bob Hoskins dies from pneumonia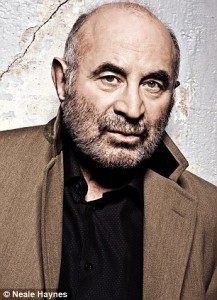 Tragic news this week with the death of British film star, Bob Hoskins, 71, who passed away late Tuesday (April 29) evening after losing his battle with pneumonia.
A statement issued on behalf of his wife Linda, and his family late Wednesday evening read, "Bob died peacefully at hospital last night, surrounded by family, following a bout of pneumonia."
Defined by his iconic role as the tough-talking private investigator, Eddie Valiant in 1988 film Who Framed Roger Rabbit, Hoskins portrayed a range of characters throughout his celebrated career.
Hoskins brought to life a range of characters including Smee, the lovable offsider to Captain Hook in the 1991 film Hook, bumbling plumber turned hero, Mario in 1993's Super Mario Brothers, through to American President Herbert Hoover in Nixon (1995). Most recently he played Muir, one of the seven dwarves in the 2012 film, Snow White and The Huntsman.
This week is Pneumonia Awareness Week, and the tragic news of Hoskins' death demonstrates the potentially devastating toll of pneumonia.
This week Lung Foundation Australia released new 'Love Your Lungs at 65 Years Young' research revealing the majority of Australians aged 65 to 74 are unaware that their age puts them at an increased risk of contracting pneumonia.
Funded through the government's National Immunisation Program, pneumonia vaccine if free for Australians aged 65 and older, and a booster for many aged 70.
This Pneumonia Awareness Week, Lung Foundation Australia is urging seniors to be aware of the seriousness of pneumonia and to 'Love Your Lungs at 65 Years Young', by protecting against this potentially life-threatening infection.
"It's important for Australian seniors to understand that their age alone puts them at heightened risk of contracting pneumonia," said Lung Foundation Australia Director, Ms Heather Allan, Brisbane.
"Australians aged 65 and over should talk to their doctor about how best to protect against pneumococcal pneumonia, including government-subsidised vaccination."