Australian healthcare industry supports outcomes of Federal Budget 2020-21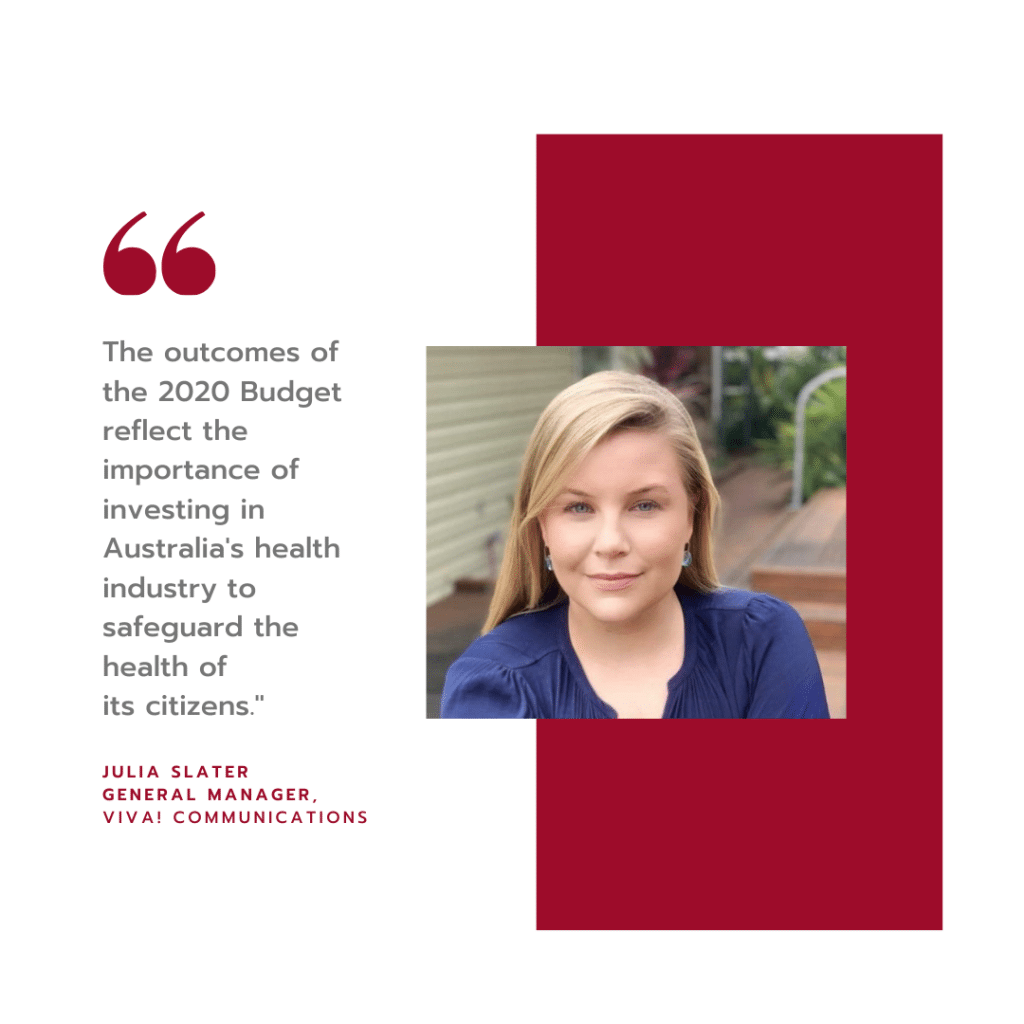 Industry leaders across pharmaceutical, med-tech, biotech, pharmacy and community health have been quick to praise the Government's record four-year injection of $467 billion into health announced in last night's 2020-2021 Budget.
This includes $2.8 billion for Australia's medicines industry – the first significant investment since May 2018 and a considerable win for Medicines Australia (MA) and for the listing of new medicines on the Pharmaceutical Benefits Scheme (PBS).
Furthermore, the $12 million digital upgrade of the Therapeutic Goods Administration (TGA) will significantly help to streamline applications tracking, status transparency, and navigating TGA databases.
Here our VIVA! Communications' Senior Account Director, Julia Slater, Sydney summarises the Budget outcomes and potential implications for the pharma industry.
Pharmaceutical and Pharmacy
The annual investment of $700 million over four years will be the most significant investment into medicines since Minister Hunt's $1 billion commitment back in May 2018.
The immediate removal of cost offsets for new medicines reimbursed on the PBS will likely result in faster listings, without the need to find additional savings from other critical health areas.
The development of a unique identification framework for PBS medicines will offer a tracking system.
The new 5-year Strategic Agreement with MA commencing 2022 will help establish a positive long-term future for innovation in health.
Australia's community pharmacies are set to benefit from the expansion of Instant Asset Write Off, which will now include businesses with a turnover of up to $5 billion until June 2022.
MedTech & Biotech
A $2 billion investment in the Research and Development Tax Incentive (RDTI).
This includes $1.5 billion over four years for the Modern Manufacturing Strategy (MMS), helping to ensure Australian manufacturing can continue to compete on the global stage.
The MMS will see the Government strategically invest in projects that enable manufacturers to scale up and create jobs.
Investment of $1.7 million over the next four years for the administration and regulation of medicinal cannabis research, cultivation and manufacturing.
Community health
$2.4 billion dedicated for telehealth services.
$5 million into fast-tracking electronic prescribing and home delivery of medicines to ensure the most vulnerable members of our communities can continue to access innovative medicines.
$4.26 million to roll out a new mental health program for small business owners.
$29.8 million to implement the Serious Incident Response Scheme to provide better protection for residents in aged care.
$91.6 million over four years to create an independent assessment service for the new residential care assessment and funding tool.
$35.6 million over two years to extend the Business Improvement Fund to help restructure residential aged care.
$798.8m for the National Disability Insurance Agency and NDIS Quality and Safeguards Commission.
COVID-19
$3.3 billion for the COVID National Medical Stockpile, including $9.2 million for increasing onshore mask manufacturing capability.
$2.3 billion investment in COVID-19 treatments and vaccines.
$750 million in funding for COVID-19 testing and $171 million for the extended operation of up to 150 dedicated respiratory clinics to manage and diagnose COVID-19 cases.
The outcomes of the 2020 Budget reflect the importance of investing in Australia's health industry to safeguard the health of its citizens and has been predominantly well-received by the pharmaceutical, med-tech, biotech, pharmacy and community health sectors.
For full details on the Australian Government's 2020-2021 Budget, head to https://budget.gov.au/index.htm.