Aussie biotech appoints American royalty to its Board of Directors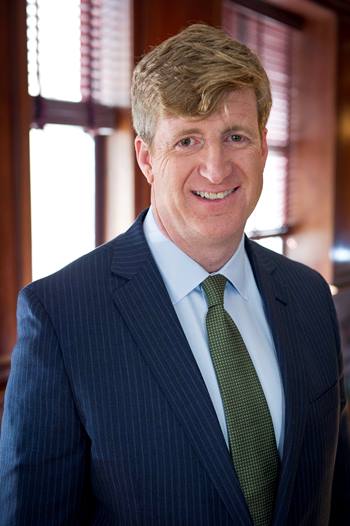 VIVA! Communications are thrilled to be working with Australian medical technology company Medibio as they today (June 4, 2017) announce the appointment of mental health advocate and former U.S. congressman, Patrick J.  Kennedy, to their Board of Directors.
Patrick J. Kennedy is a former member of the U.S. House of Representatives and America's leading political voice on mental illness, addiction, and other brain diseases. During his 16-year-long career representing Rhode Island in Congress, he fought a national battle to end medical and societal discrimination against these illnesses, highlighted by his chief sponsorship of the Mental Health Parity and Addiction Equity Act of 2008.
Kennedy was recently appointed to President Trump's Commission on Combating Drug Addiction and the Opioid Crisis.  His political career and brave openness about his own health challenges, will provide unique expertise to the Australian biotech.
"Medibio's technology is truly groundbreaking, and has the potential to fundamentally change the mental health system for the better. That's why I am proud to be part of this team," said Kennedy.
"This is a company that is truly on the cutting edge, and their diagnostic and analytic tools will give clinicians the power to treat patients more effectively, using better data, and with a focus on better outcomes."
Medibio Managing Director and CEO, Jack Cosentino, said, "Patrick is a significant addition to the Medibio Board. His wealth of experience gained from serving in the U.S. Congress, along with his advocacy for mental health, will open doors and heighten awareness for Medibio's technology.
"He has proved successful in tackling mental health as one of the greatest challenges in healthcare today. His knowledge, both through personal experience and legislative accomplishments, will help guide us in laying the strategic foundations for large-scale operations, and the necessary payment and reimbursement coverage of our innovative, new technology.
"We welcome Patrick to the board of Medibio, and value his leadership and passion to serve people with mental health conditions," Mr Cosentino said.
Medibio is an evidence-based medical technology company that has developed an objective test to assist in the diagnosis and management of depression, chronic stress and other mental health disorders. Based on research conducted over 15 years at the University of Western Australia, this test utilises a panel of patented (and patent pending) circadian, sleep and autonomic system biomarkers to objectively quantify and characterise mental illness.
Learn more about Medibio on their website.
Read more about Michael Phelps' appointment to the Medibio Board.