Allison, 37 – Respiratory clinical nurse specialist & mother who survived three episodes of bacterial pneumonia within 11 months, TWEED HEADS – May 10, 2016
Mother-to-three and respiratory clinical nurse specialist, Allison, 37, Tweed Heads, survived three episodes of a rare form of pneumonia, known as atypical bacterial pneumonia or mycoplasma pneumonia, within the space of 11 months.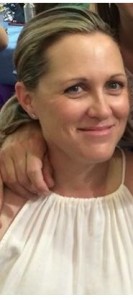 After first being diagnosed with pneumonia in June 2015, Allison was placed on four different types of antibiotics and sent home to recover. She took six weeks to mount a recovery from this severe infection.
Two months later, Allison experienced a second episode of pneumonia, for which she was treated with antibiotics and took another two weeks off work to recover.
Five weeks ago, Allison contracted the flu which soon developed into a third episode of pneumonia, rendering her lethargic, nauseous and feeling confused, with headaches and a sore throat.
Following two weeks of bed rest, Allison is now easing back into work, and is a strong advocate for pneumococcal vaccination.
This is Allison's story.
"Having pneumonia feels like you are completely winded, all of the time.
"I have had three episode of bacterial pneumonia, all within the space of 11 months," said Allison.
Allison unwittingly developed her first episode of pneumonia from a flu virus she contracted in June 2015.
"I'm not sure how I contracted the flu, but I do recall standing outside my the GP practice with my kids, thinking, if I can't breathe, I'm going to collapse in front of my girls," Allison said.
"The scariest part of this first episode of pneumonia was the fact that I just couldn't breathe."
Due to her professional role as a respiratory clinical nurse specialist, Allison was quickly able to identify the symptoms of pneumonia, having cared for many patients living with lung disease and chronic illnesses.
"My body was going into shut down mode. I had a fever, headaches, my body was fatigued, and I had lost my appetite.
"I couldn't get out of bed, but I knew that if I didn't see the doctor that day, I would have died," Allison said.
"I went to my doctor, who put me on oxygen and nebuliser to open up my airways, but I knew there was something more sinister at play. I then went to hospital, and was sent home, armed with some antibiotics."
After six weeks of rest and four types of antibiotics, Allison managed to recover from this first episode of bacterial pneumonia.
Two months later however, in August 2015, Allison began to experience "the all-familiar symptoms of pneumonia." She had lost her appetite, developed a sore throat, was coughing, short of breath, had muscular pain and was extremely fatigued.
"I was not admitted to hospital and administered antibiotics to help my body recover from the infection.
"I had to take two weeks off work and was put on bed rest to recover," said Allison.
Allison experienced her third episode of the same bacterial infection only five weeks ago, in April 2016. What started off as the flu, soon developed into Allison feeling sick and nauseous, tired, delirious and plagued by a sore throat. Allison promptly visited her GP, and had a chest X-ray, which confirmed another episode of pneumonia.
"I went to the GP, had some tests done, and was told I had the same strain as my previous pneumonia episodes.
"I was given two types of antibiotics to help my body recover," Allison said.
Allison's immune system is slowly recovering from her most recent episode of pneumonia, and she has since been placed on steroidal medication. Should she experienced another episode of pneumonia, she believes she would have to visit a respiratory physician.
The three episodes of pneumonia have taken a huge toll on Allison's health and wellbeing. Her body now takes longer to recover from respiratory infections, her tolerance for exercise has decreased, and towards the end of the day she becomes very lethargic.
"Pneumonia has had both a physical and emotional impact on my life.
"My children were extremely upset and thought I was going to die the first time I experienced the life-threatening infection," said Allison.
"And to this day, pneumonia continues to affect my daily life, with regard to breathlessness and lethargy."
Allison has been vaccinated against pneumococcal pneumonia due to her professional job, and urges all patients who are on steroidal medication to get vaccinated against the infection too, due to their waning immunity, along with those aged 65+ who are at risk of infection due to their age.
"I've been surprised by the number of people who have been contracting pneumonia, and that's why I recommend protection against the often fatal lung infection for those age 65+ and the immunocompromised.
"Given my first-hand experience with pneumonia, I now understand how difficult it is for patients living with lung disease, who struggle to breathe every day," Allison said.