1st place in the PRIA State Awards for Excellence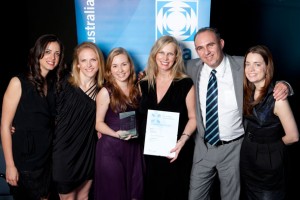 VIVA! Communications clinched first place in the 2010 Public Relations Industry of Australia (PRIA) State Awards for Excellence Thursday, September 23 in the Health Organisations category, for our "Trimming teens with gastric banding surgery" campaign.
In February 2010, our company teamed with leading Australian researchers from Monash University and the Royal Children's Hospital, Melbourne, to promote the results of ground-breaking, controversial research into laparoscopic adjustable gastric band (LAGB) surgery for severely obese adolescents.
For the past two years we have been Highly Commended in the NSW and National PRIA Awards. So we are delighted to have finally won first place in the NSW Awards, held at Sydney's National Maritime Museum. We are now automatically entered into the National Awards and will know the outcome of our national entry in late October this year.